These little almond flour chocolate muffins are filled with rich cocoa and chocolate chips to make them a chocolate lovers dream! No refined sugar, just maple syrup to sweeten it up. Who doesn't need more chocolate these days? I know I do. Especially if it's healthier and easy to make. These are good enough to eat for breakfast, snacks, or even a midnight treat. Add a pinch of sea salt to the tops and you have a decadent but still healthy chocolate muffin.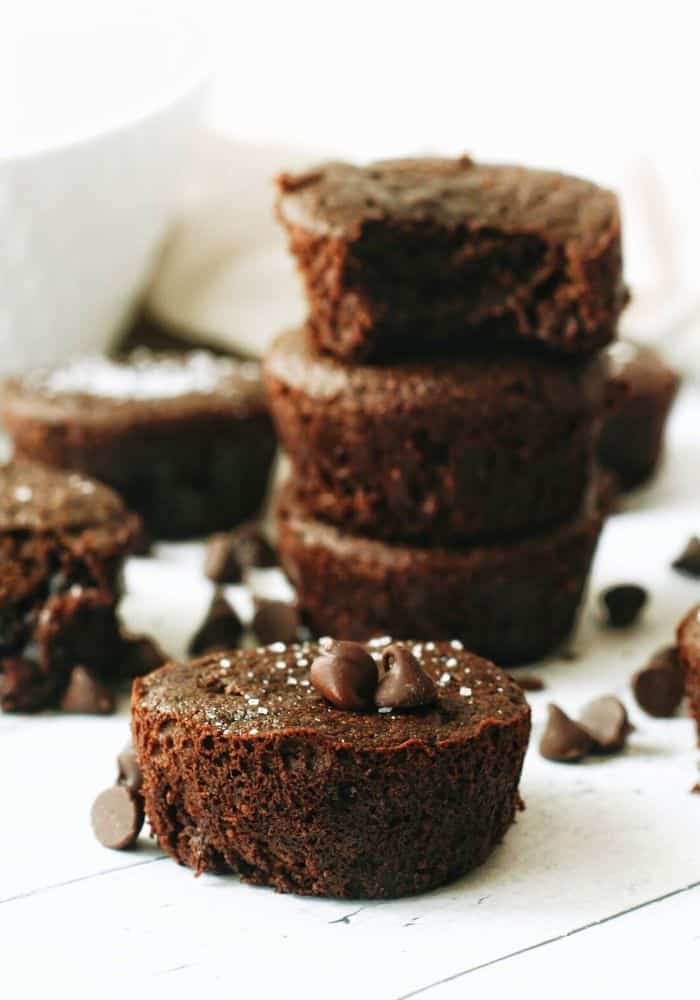 Gluten Free CHocolate Muffins
Like I said, who doesn't need more chocolate in their life? We love making things with almond flour mostly for the flavor and texture which we love, but also because it creates a nice balance in our diet as well as our bank account.
I like to have a variety of flours to use for different recipes simply so that I don't go through all of one kind at once. We like to bake and cook a lot around here and sometimes almond flour is a great substitute for regular flour in baking which saves the regular flour for other things. Enter these double chocolate muffins with chocolate chips.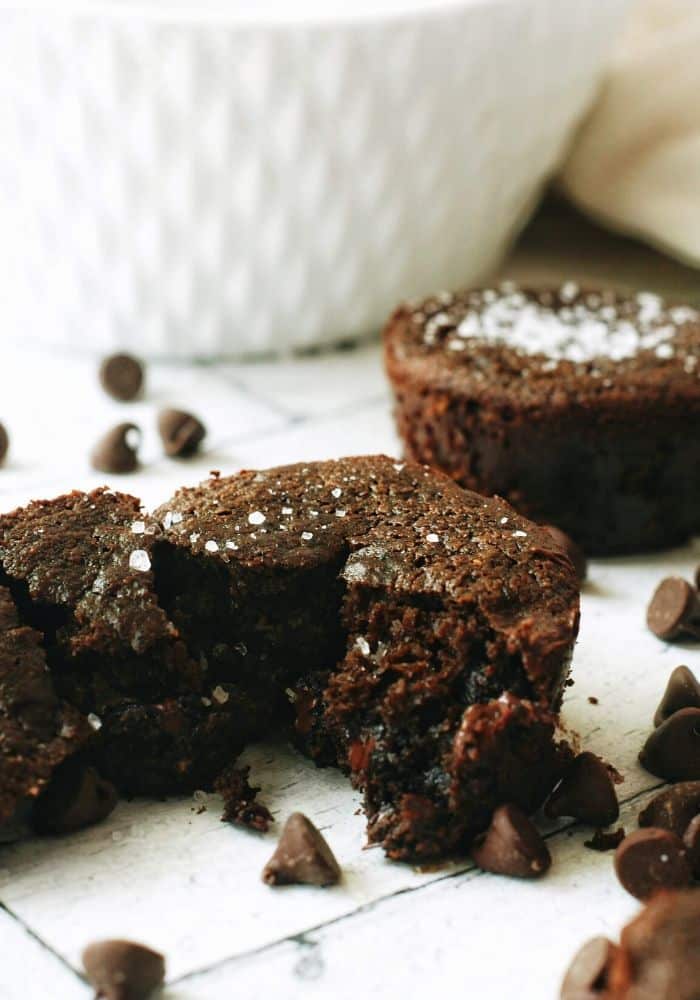 We love desserts. We love unhealthy foods. We also love healthy foods. Basically we love food that tastes good and most of the time makes you feel good. There is a balance and I think it's different for everyone. I personally love turning treats and desserts into a slightly healthier version with really easy ingredients. Easy ingredients, meaning fairly easy to find in a regular grocery store.
Almond Flour + COconut Flour
These two flours almost always go together in my gluten free baking recipes. They really help balance each other out with the moisture level in baked goods.
Almond flour chocolate muffins also have that coconut flour in them. The trick is balancing the cocoa powder as well which obviously I think we did here.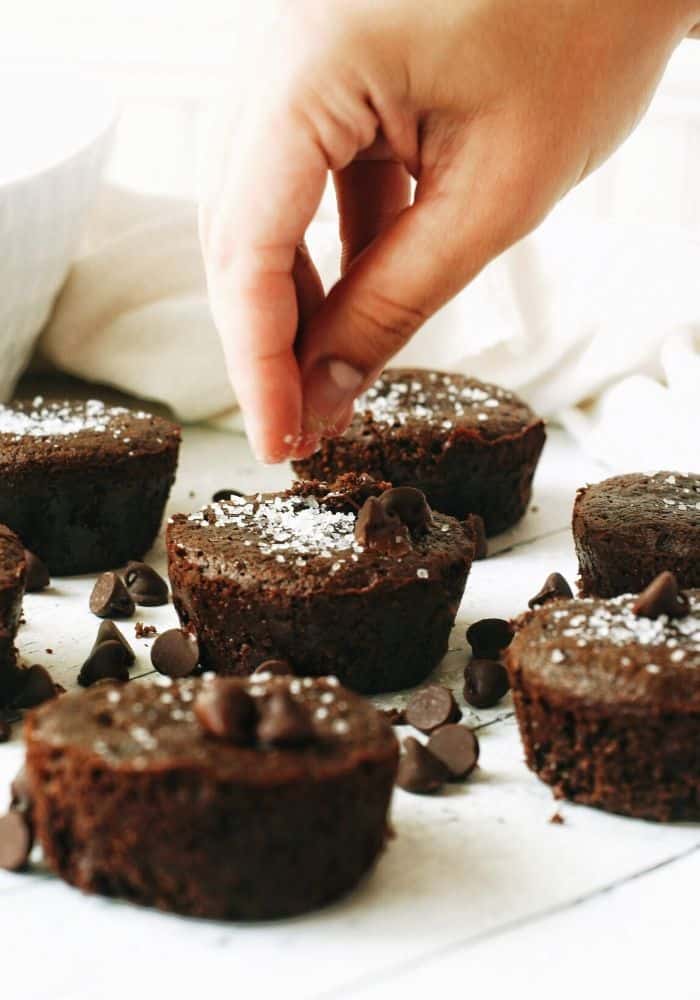 Almond flour adds a lot of nutty flavor and extra moisture. Coconut flour adds texture and soaks up the extra moisture. Cocoa powder is obviously there for the chocolate, which I am also here for.
Making Almond Flour Chocolate Muffins
The best part about these double chocolate muffins is how easy they are to make!
In a medium sized mixing bowl, combine your dry ingredients:
almond flour
coconut flour
cocoa powder
baking soda
baking powder
salt
Once these are mixed up, add your eggs and maple syrup to the bowl.
Lastly add your milk + vinegar combination and stir in the chocolate chips. Using a ¼ cup, fill your cupcake tin. You can either spray it to make it non-stick or use cupcake liners.
Bake at 350 for 20 minutes.
Add an optional sprinkle of sea salt to the top and enjoy!
This post may contain affiliate links. If you click and buy, I may make a commission at no cost to you. See my policy for more information.
More Sweet recipes for you to love
Tag us on Instagram @grabthemangos and give us a rating and review right here in the comments! And don't forget to pin and save it for next time!
Shop The Post

Almond Flour Double Chocolate Muffins
These super easy to make, healthy double chocolate muffins are made with almond flour and extra chocolate chips. So yummy! Perfect for snacking or breakfast.
Ingredients
1 cup Almond Flour
¼ cup Coconut Flour
1 teaspoon Baking Soda
1 teaspoon Baking Powder
Pinch of Salt
¼ cup Cocoa Powder
½ cup Milk of choice + 1 tablespoon Vinegar
2 Eggs
½ cup Maple Syrup
1 cup Chocolate Chips
Instructions
Pre-heat your oven to 350.
In a glass measuring cup, combine the milk and apple cider vinegar together and set aside.
In a medium mixing bowl, combine the dry ingredients- almond flour, coconut flour, salt, cocoa powder, baking powder ,and baking soda.
Add the eggs and maple syrup.
Finally mix in the milk and vinegar mixture (aka buttermilk) and stir in the chocolate chips until everything is well combined.
Use a ¼ cup scooper to pour into cupcake tins. You can use liners or spray to make sure it won't stick.
Bake for 20 minutes. Make sure it's cooked through by poking a tooth pick through the middle muffin and making sure it comes out clean.
Let them cool for at least 30 minutes- 1 hour so that they come out cleanly.
Enjoy with an extra sprinkle of sea salt!
Nutrition Information:
Yield:

12
Serving Size:

1
Amount Per Serving:
Calories:

196
Total Fat:

11g
Saturated Fat:

4g
Trans Fat:

0g
Unsaturated Fat:

6g
Cholesterol:

32mg
Sodium:

179mg
Carbohydrates:

24g
Fiber:

3g
Sugar:

17g
Protein:

5g
Nutritional information is not always 100% accurate.