Smoothies are some of the easiest ways to have a nice frozen treat and a healthy dose of goodness at the same time. This creamy pineapple smoothie is seriously a dream. Super simple, filled with frozen pineapple, yogurt, and creamy coconut milk. Add a dash of tumeric if you want and you've got a refreshing smoothie with some health benefits. This smoothie is the rich and thick kind of smoothie- almost the texture of a frosty. We eat it up like ice cream in the summer!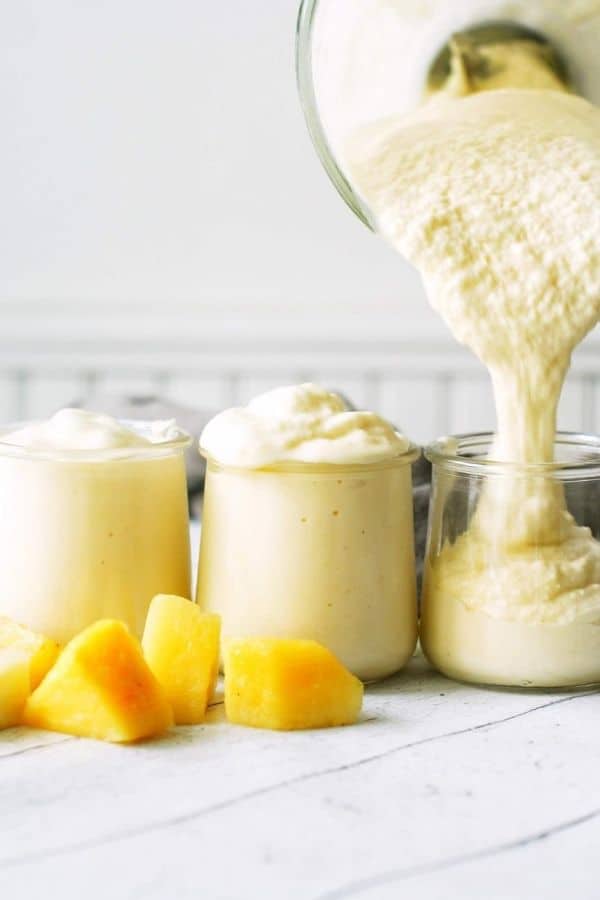 What makes a smoothie creamy?
This pineapple smoothie is extra creamy. Ingredients like:
frozen fruit
yogurt
coconut milk
avocado
frozen banana
milk ice cubes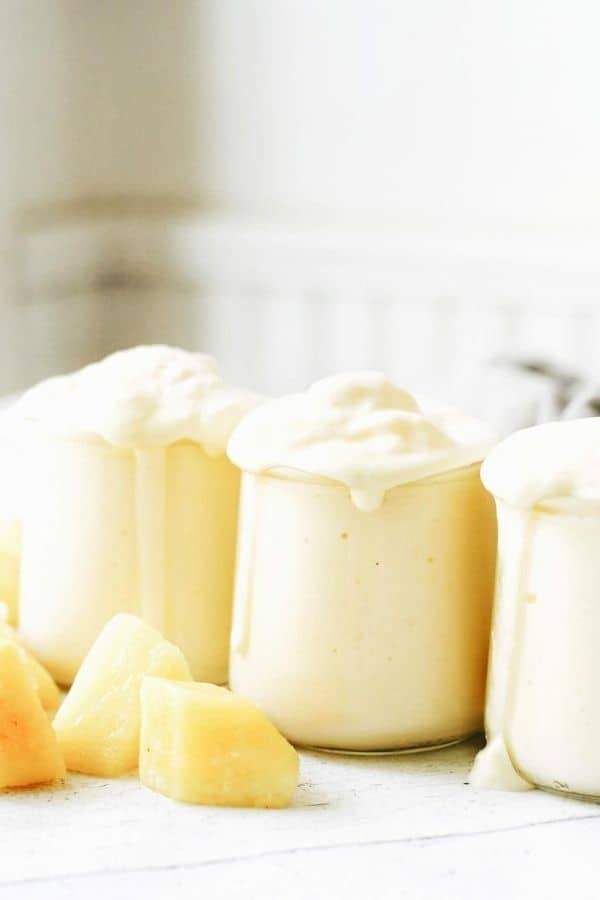 These type of ingredients, usually a few of them, in a smoothie will help make it creamy instead of watered down. We used those first 3 ingredients in this smoothie for that pure pineapple tropical flavor, but there is plenty of room for you to add avocados, frozen banana, or veggies if you want that. The flavor will change a bit from this original recipe, but they are mild changes most of the time with benefits you may want.
The second thing that is important to remember when you want that thick and creamy smoothie is what your blender can do. Some blenders, you may need to work through the thicker bunch of ingredients by starting and stopping and using a spoon to mix it all up for the blender to get it all. A food processor or a more high powered blender will work a little easier in getting the job done but we used our crappy cheap blender for this and with a little working it in, it worked out well.
creamy pineapple smoothie without banana or juice
Like I said above, you definitely can add some frozen banana if you want some extra flavor. We did not because, well if I'm honest we didn't have any was the biggest reason. But I also just think banana is in everyone's smoothie. So again, feel free to add it- it will taste amazing, but you don't need to.
Adding juice to this smoothie is something you should only do if your blender is having too much trouble with how thick it is. If that's the case definitely add some juice- a quarter cup at a time should do the trick without thinning it out too much. Obviously pineapple juice would be my suggestion for the best juice to add, but any tropical juice or even orange juice works well with pineapples. Definitely try to work it through the blender before adding any juice if you want that thick and creamy smoothie.
How to Store this smoothie for later?
We make big batches of this and store it in a big jar for later. It stores really well in the fridge. If it does sort of melt and become watery, just add a little more frozen pineapple and blend again. Lasts up to a week in the fridge.
Here's to some bright, tasty, creamy smoothies. Hope you enjoy it as much as we do!
This post contains affiliate links. If you click and buy, I may make a commission at no cost to you. See my policy for more information.
Tag us on instagram @grabthemangos and give us a rating and review right here in the comments! And don't forget to pin and save it for next time 😉
If you love this recipe, be sure to check out these drool worthy recipes too:
Shop The Post:

Dreamy Creamy Pineapple Smoothie
This creamy pineapple smoothie is so easy to make and SO YUMMY! A tropical vacation in a cup with hints of coconut and vanilla. Healthy and delicious.
Ingredients
4 cups Frozen Pineapple
1/4 cup Plain Greek Yogurt
1 can Coconut Milk (13.66 oz)
1 tsp Vanilla
1 pinch of Salt
1 Tbsp Maple Syrup (optional)
Instructions
In your blender add all of the ingredients and pulse the blender, mixing the ingredients every few minutes between pulses to get all of them incorporated.
Blend until smooth.
Pour into cups or a bowl and eat just like that or add some granola or shaved coconut on top. Enjoy!
Notes
Don't mix with a spoon or utensil while the blender is on. Stop, then mix, then start again.
Nutrition Information:
Yield:

4
Serving Size:

1
Amount Per Serving:
Calories:

430
Total Fat:

21g
Saturated Fat:

19g
Trans Fat:

0g
Unsaturated Fat:

1g
Cholesterol:

1mg
Sodium:

57mg
Carbohydrates:

61g
Fiber:

3g
Sugar:

55g
Protein:

4g
Nutritional information is not always 100% accurate.