If you are gluten free and/or dairy free, or if you just love a healthier version of your Christmas recipes, then you need this gluten free dairy free gingerbread house recipe! This is made with honey, molasses, gluten free flour, and refined coconut oil. All the same warm delicious spices and keeps it's shape perfectly without being refrigerated. You'd never know that this recipe was any different than your grandma's good old gingerbread recipe.
Healthy Gingerbread House (and cookies)
This recipe is made with Bob's Red Mill 1-1 Gluten Free Flour (which if you've been following along at all is my favorite). The other parts of this recipe are coconut flour, molasses, triple refined coconut oil, and cinnamon, cloves, and of course ginger.
The only sweetener in this amazing recipe is honey. And let me tell you, it is so tasty! We were munching on this masterpiece all week long after I shot the pictures for this recipe.
I really love using triple refined coconut oil as a butter or shortening replacement in recipes. We are gluten AND dairy free which can sometimes mean substituting over half the recipe out and can get tricky. But triple refined coconut oil doesn't taste like coconut at all but acts similar way to butter and shortening in baking.
How to Make a Gingerbread House
Making this gluten free dairy free gingerbread recipe is so easy and simple. No weird ingredients or tricks and it doesn't need to be chilled before going into the oven!
In a medium bowl, mix together your dry ingredients - gluten free flour, coconut flour, baking soda, salt, and spices. In a large bowl, cream together your wet ingredients - egg, molasses, honey, coconut oil, and vanilla. Pour the dry ingredients into the large bowl with the wet ingredients and form a dough ball. Make sure to get everything fully mixed together. Knead the dough a few times to make sure it's really combined.
Roll the dough out onto a floured surface (flour the surface with the gluten free flour- not coconut flour for the best results). You want the dough to be about ¼ inch thick for building a gingerbread house. If you are making cookies, thicker will be a softer cookie and thinner will be crunchy.
Using your own template or the template we have made below (it's so cute!), cut out the shapes and place them on a baking sheet lined with parchment paper. Bake at 350 for 10-12 minutes for large house pieces and 8-9 minutes for cookies.
Make sure to let it cool for at least 30 minutes after baking. If you try to decorate or assemble while it's still warm, the icing will just melt off. Yikes!
Frost together using some royal icing as it's "glue" and decoration. Our favorite royal icing recipe is The Spruce Eats recipe (linked). Have fun decorating your homemade gluten free, dairy free gingerbread house!
Tag us on Instagram @grabthemangos and give us a rating and review right here in the comments! And don't forget to pin and save it for next time!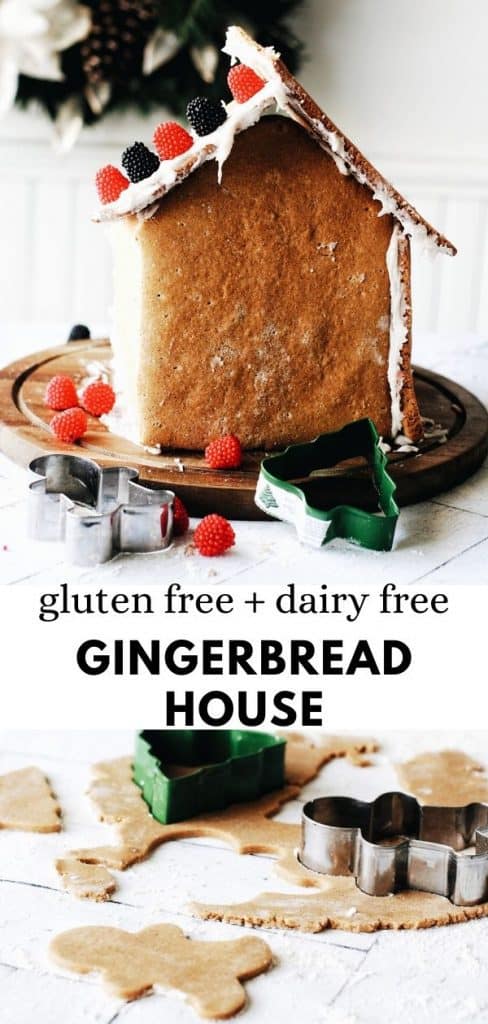 More Sweet recipes for you to love
Gluten Free Dairy Free Gingerbread House
Yield:
1 house & some cookies
Total Time:
1 hour
25 minutes
This easy ginger bread recipe is totally gluten free and dairy free and so easy to make! With honey and molasses this recipe is healthy too but still so tasty. Print off the design and have your own gingerbread house kit right now!
Ingredients
2 ½ cups Bob's Red Mill Gluten Free Flour
¼ cup Coconut Flour
1 teaspoon Baking Soda
1 teaspoon Ginger
1 teaspoon Cinnamon
½ teaspoon Ground Cloves
Pinch of Salt
1 Egg
4 tablespoon Molasses
½ cup Honey
⅓ cup Refined Coconut Oil
1 teaspoon Vanilla
Instructions
Pre-heat the oven to 350.
In a medium mixing bowl, combine your dry ingredients- flour, coconut flour, baking soda, salt, and spices.
In a large mixing bowl, combine your wet ingredients- egg, molasses, honey, coconut oil, and vanilla. Mix well!
Pour the dry mixture into the wet mixture and combine into a dough. Knead a few times to make sure it is really well combined.
On a floured surface roll the dough out to about ¼ inch thick for the gingerbread house. Cookies can be thicker for a softer cookie or thinner for a crunchy cookie.
Using your own design or the design we made above, cut out your pieces using a sharp knife and place them on a baking sheet lined with parchment paper.
Bake gingerbread house pieces for 10-12 minutes until the edges are slightly browned. Cookies bake for 8-9 minutes until edges are slightly browned.
Let everything cool for at least 30 minutes before applying frosting/icing otherwise it will melt off.
Assemble your gingerbread house with our favorite Royal Icing recipe from The Spruce Eats and decorate with candies and more frosting! Enjoy!
Nutrition Information:
Yield:

12
Serving Size:

1
Amount Per Serving:
Calories:

174
Total Fat:

7g
Saturated Fat:

5g
Trans Fat:

0g
Unsaturated Fat:

1g
Cholesterol:

16mg
Sodium:

127mg
Carbohydrates:

26g
Fiber:

1g
Sugar:

17g
Protein:

2g
Nutritional information is not always 100% accurate.