Lemon meringue cookie gushers are probably my kids (and husband's) new favorite obsession. Ever since I made these up for them, they have not stopped asking for me to make more. That's how good they are!
Meringue Cookies
I was inspired by my mother-in-law to make these up actually. Every Christmas or special time, she makes up these delicious "forgotten cookies" (don't worry I'll get that recipe up here soon). They are cute little green meringue cookies with Andie's mints and the whole family just loves them! She had to send boxes of them to my brother-in-law when he was deployed in Kuwait. So even though those are amazing little cookies, I thought "let's experiment!" Lemon is my absolute favorite sweet flavor (besides dark chocolate and caramel and toffee... and all the sweet things- let's be real I have a sweet tooth problem). But I just love love lemon treats! So of course I thought- Lemon Meringue Pie but in a little cookie.
The cookie part of this little sweet treat is just a normal meringue cookie. Fairly simple, but definitely some key things to remember while making them. When separating the yolks from the whites, absolutely no yolk can get into the whites or the meringue won't work. A good tool to use if you don't feel comfortable just winging the separating process, is this egg yolk separator (affiliate link) that even my 3 year old loves to use. Not to mention it is one of the cutest kitchen tools ever.
Making the cookies:
I usually start beating the egg whites on low to medium and work my way up to high from there slowly to make sure nothing sprays out of the bowl. Make sure to add in your cream of tartar to help stabilize the meringue especially since we will be filling them later on and you don't want them to just crumble. Get the egg whites pretty thick before adding in the sugar to make sure nothing stops the air from getting all through the whites. For the same reason, add in the sugar one tablespoon at a time and beat well to make sure it really dissolves into the cookie. Once all the sugar is added and the meringue is glossy and stiff peaks form and keep their shape, it's time to start piping cookies.
Best way:
Use some parchment paper to line the baking sheet to help the cookies bake evenly and to ensure no sticking. When I first attempted these cookies, I used a cheap plastic piping tip and oh my goodness what a mess! The thing exploded after being extremely difficult to use anyways. So take my advice and just get a really great, re-usable, metal piping tips with nozzles and piping bags for making these cookies or anything involving piping tips really (and a great price).
Pipe the cookies out about 2 inches in diameter and honestly use whatever piping tip you like best but remember you'll be filling them with lemon curd so make sure there is room inside the shape. Bake in the oven for about 45-50 minutes until they have a bit of a golden color on the bottoms and edges. When the cookies are done, simply turn off the oven and leave them inside to cool gradually so they can set and stay stable.
Making the filling:
Making lemon curd for these lemon meringue cookie gushers is actually super easy. Who else loved gushers as a kid? I really did! This lemon curd is nice and tart with a little sweetness which is perfect in a sweet sweet meringue cookie balancing it out.
While the cookies are baking, in a medium bowl, whisk together the saved egg yolks, sugar, lemon zest and lemon juice. You can always feel free to add some more sugar to this as you go if you want a super sweet lemon curd but the sweetness of the cookie with tart subtly sweet lemon balance is really amazing.
Pour the mixture into a medium sauce pan on the stove on medium to low heat. Add the butter in, mixing continuously as it melts. You want to make sure you keep whisking and mixing this up as it heats slowly to prevent the yolks in the mixture from scrambling. Once you start to see some thick bubbles appear on the surface it's close to done and you can stop and take it off the heat once it has thickened to a custard/jelly type consistency.
I love this cookie combination because all of the egg gets used up with very simple ingredients resulting in a super delicious and fancy lemon meringue cookie.
You want to let this cool for a while so that it does melt the meringue cookie when you fill them. This is why I would make it while they are baking and let it cool for the whole time they are baking and cooling themselves.
Filling and Eating:
Once everything is set and cooled completely, it's time for the fun part: filling the cookies and eating them up! Fill a piping bag, or a gallon sized plastic bag with a small hole cut into one corner, with the lemon curd. Again using a good, sturdy, metal piping tip (a medium simple round tip is good), poke a small hole into the center of the bottom of the cookie. You are going to want to swirl the lemon curd around the sides of the inside of the cookie to make sure you get the whole things filled. It may take a couple tries to get your preferred balance between filling and cookie. Once you have done all the cookies serve them up and watch everyone LOVE them or you can keep them in an air tight Tupperware container until you are ready to eat them. Enjoy 🙂
Tag us on Instagram @grabthemangos and give us a rating and review right here in the comments! And don't forget to pin and save it for next time!
If you loved these cookies, be sure to check out our other desserts like Heath Bar Cookies or Fudge Hazelnut Espresso Cookies! Get your sweet tooth on 😉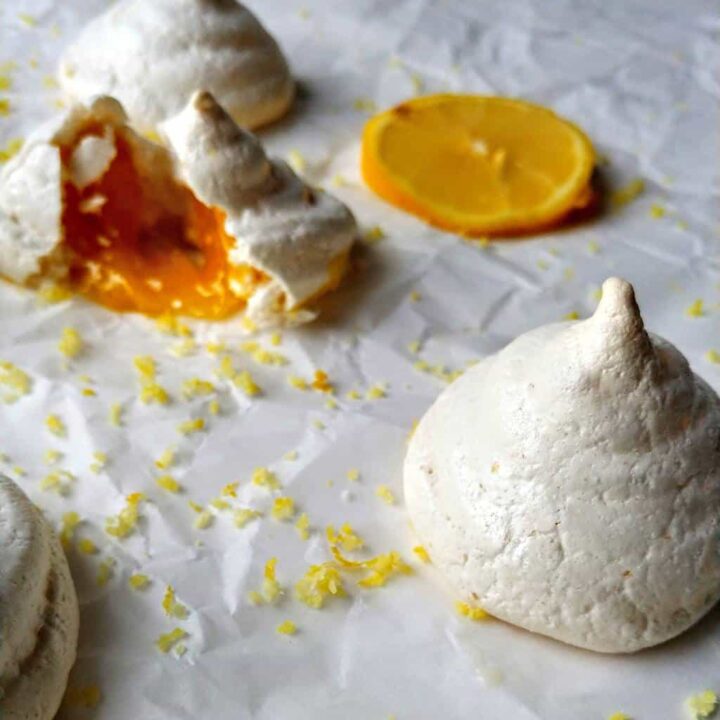 Lemon Meringue Cookie Gushers
This lemon meringue cookie recipe is low carb, delightfully sweet but also that perfect lemon tart, and so simple and easy. Using egg whites for the cookies and the yolks for the lemon curd- this recipe only has a few ingredients that you probably have on hand.
Ingredients
Meringue Cookies
4 Egg Whites, save the yolks separately
1 cup Granulated Sugar
½ teaspoon Cream of Tartar
Lemon Curd Filling
4 Egg Yolks
½ cup Lemon Juice, or 2-3 lemons squeezed
½ teaspoon Lemon zest
3 tablespoon Butter
½ cup Sugar
Instructions
Pre-heat the oven to 200.
Separate the egg whites from egg yolks making sure to save both in separate bowls. Make sure no egg yolk gets into your egg whites or the cookies won't work.
Place the egg whites in a large mixing bowl and add the cream of tartar. Using the whisk attachment, beat the mixture until stiff peaks form.
Continue to beat and gradually, a tablespoon at a time, add in the cup of sugar.
Beat until the mixture is glossy and the peaks hold their shape.
Scoop into a piping bag with the large piping star tip. Use a sturdy metal one that screws on for the best results.
Pipe out cookies on a baking sheet with parchment paper on it. Try to get them all the same size for an even bake.
Place them in the oven for 45 min, or until they are firm and golden on the bottoms.
When they are done, just turn the oven off and leave them to cool and set for about 40 minutes to an hour before taking them out.
Lemon Curd Filling
While they are baking in the oven make your lemon curd filling.
Taking your egg yolks, whisk in the sugar, lemon juice, and lemon zest and put in a pot on the stove. Add the butter in the pot.
Whisk continuously while cooking the mixture over medium to low heat until it thickens and bubbles start to appear. Let it cool completely.
Filling the Cookies
When everything is cooled completely it's time to start filling the cookies.
Scoop the lemon curd into a piping bag with a round medium sized piping tip. Again for the best results use a sturdy metal one that screws on.
Poke a small hole into the bottom of the cookie using the metal piping tip and begin to squeeze the lemon curd into the center of the cookie. To get enough filling in make sure to aim the tip into the sides of the cookie as well.
Once you're done, you can try to not eat them all in one sitting by storing them in dry, air tight Tupperware until you are ready to eat them all up! Enjoy!