This super easy pizza dough recipe is just that, super freaking easy. We make this just about every week because, well, we love pizza and I always have these simple ingredients on hand so why not make an amazing pizza?
Super Easy Pizza Dough
This pizza dough only requires about 30 minutes of time and is made out of flour, water, yeast, salt, and some olive oil for greasing. That's it!
Start with a large bowl and lukewarm water. When you are using yeast, temperature matters. Make sure the water you use is nicely warmed, not hot, and not cold. You want the yeast to be able to activate and grow to help your dough to rise properly. If the water is too hot the yeast will die, if it's too cold they can't activate and grow. Think, nice warm soaking water.
Add the INSTANT yeast into the water and stir gently until completely dissolved and creamy looking.
As soon as the yeast is dissolved in the water, add the flour and salt and combine into a dough ball. This will first form a shaggy dough that you can knead into an elastic dough ball. I usually knead the dough right in the bowl to really get everything incorporated but you can then turn it onto a clean surface to knead it together too. This takes about 5 minutes of working the dough until everything is combined well.
Rising Pizza Dough
Once you've got your pizza dough to come together, take a little bit of olive oil and grease the inside of a clean bowl. Place the dough ball in and cover with a damp towel. Place on the counter near your oven in a place that gets warm but not hot. Then pre-heat the oven to 400.
The warmth from the oven as it pre-heats will help the dough to rise quicker and easier. Just make sure the spot you placed the dough in doesn't overheat and wind up cooking.
Leave your dough to rise for about 20 minutes (you can go longer if you want) until just about doubled in size. If you want a thinner crust, 20 minutes is definitely all you need.
Gently take the dough out and onto a floured surface and start rolling into a nice big pizza circle. Use as much sprinkled flour as you need to prevent sticking. Make sure to use a fork to poke holes all through the dough before adding your toppings.
Pizza Topping Ideas
Try out our favorite pulled pork pizza- so delicious oh man!
Margarita Pizza- red sauce, dollops of mozzarella, and fresh basil leaves- definitely one of my favorite classics.
Another favorite- our homemade Basil Pesto and some goat cheese and Parmesan- seriously to die for yummy!
Top the classic pepperoni pizza with garlic powder, oregano, and a little basil and you have upped your pizza game right there!
Tag us on Instagram @grabthemangos and give us a rating and review right here in the comments! And don't forget to pin and save it for next time!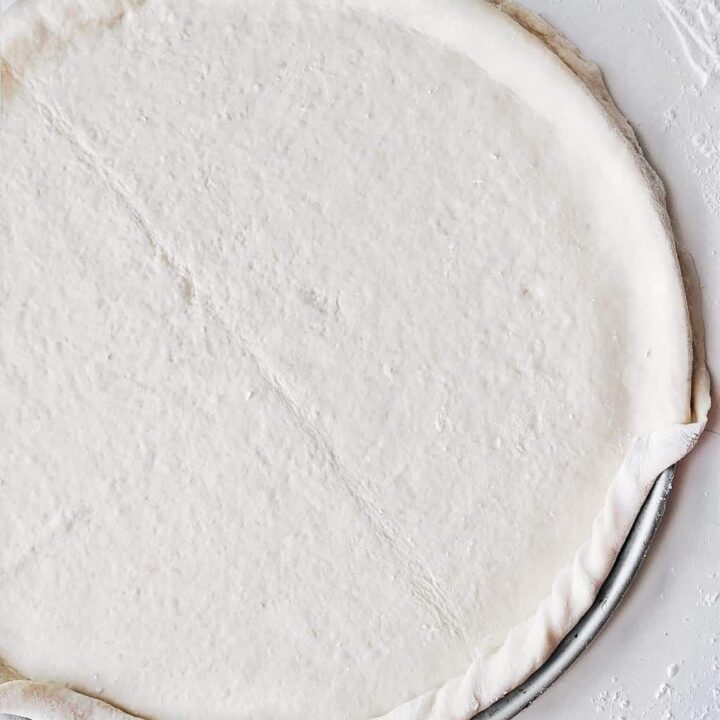 Super Easy Pizza Dough
This super easy quick and crispy pizza dough recipe is amazing! Can be made fluffy or thin crust but definitely is the best recipe. Homemade and no mixer needed 🙂
Ingredients
¾ cup Warm Water
1 teaspoon Instant Yeast
2 cups Flour
1 teaspoon Salt
2 tablespoon Olive Oil , for greasing
Instructions
In a large bowl, combine the yeast and warm water and stir until dissolved and creamy looking.
Add the flour and salt and mix until a shaggy dough forms. Then knead until an elastic dough ball forms and everything is incorporated.
Pre-heat the oven to 400 and place the dough ball in a greased bowl covered with a damp cloth near the warmth of the heating oven (like the counter next to your oven).
Let it rise for at least 20 minutes. (30-40 for fluffier crust)
Roll it out on a floured surface and transfer to a pizza pan.
Poke with some fork holes to let the air escape and top with your favorite toppings.
Bake at 400 for 15-18 minutes. Enjoy!