This Mahi Mahi recipe is so yummy and easy to make. Hawaiian style recipe for a tropical fish only seems fitting right? This recipe is made with tamari, a rich and dark, gluten free soy sauce. Along with mango's to brighten and sweeten the dish up, this tropical recipe is delicious! Even my kids gobbled it up and they are picky about fish recipes. Flaky, tender, and quick and easy Mahi Mahi.
Pan Seared Mahi Mahi
Mahi Mahi is a super cool looking tropical fish. Seriously look it up- very cool and almost alien-like looking. Mahi Mahi is very similar in texture to swordfish and is super good for grilling or pan searing.
As a tropical fish, Mahi Mahi tastes a bit stronger than something like cod but has a really nice flavor for something like the marinade in this recipe.
The best part of this fish is how easy it is to cook. We use a cast iron skillet but a normal pan would work as well. (side note: highly recommend getting a cast iron skillet if you don't have one) To pan sear this fish and cook it through so it's nice and flaky, you only need a couple minutes on each side.
The beauty of using a cast iron pan is how the heat transfer works. When searing your Mahi Mahi, let it sear on medium heat for about 2 minutes before checking it. If it won't release from the skillet, it needs a little longer. Once it starts to release from the pan, that's when you should flip it for another 2 minutes or so.
Mahi Mahi Marinade Recipe
This post may contain affiliate links. If you click and buy, I may make a commission at no cost to you. See my policy for more information.
The sauce for this recipe is full of flavor! You can use it to marinade the fish or just pour it over the top while cooking if you don't have the time and either way it is amazing.
In a glass measuring jar or bowl, combine your tamari soy sauce (the best soy sauce even if you aren't gluten free), garlic, honey, gluten free rice vinegar, and gluten free flour. Super easy, just whisk it together thoroughly.
Note: rice vinegar is not always gluten free, we find our FAVORITE gluten free rice vinegar through Thrive Market, where you can also find Tamari soy sauce.
Get up to $20 in shopping credit when you purchase a Thrive Market Membership! (1 month, 3 month, and 1 year memberships available)
Like I said above, you can either marinate your fish fillets in the sauce for a few hours before cooking, or just pour the sauce over the top of the fish when you cook it in the skillet. Add your mangoes right after the sauce so the juices can really seep through into the flavor.
Such an easy recipe and you can garnish with some cilantro if you're a cilantro lover. Tastes amazing!
Tag us on Instagram @grabthemangos and give us a rating and review right here in the comments! And don't forget to pin and save it for next time!
More Sweet recipes for you to love
Shop the post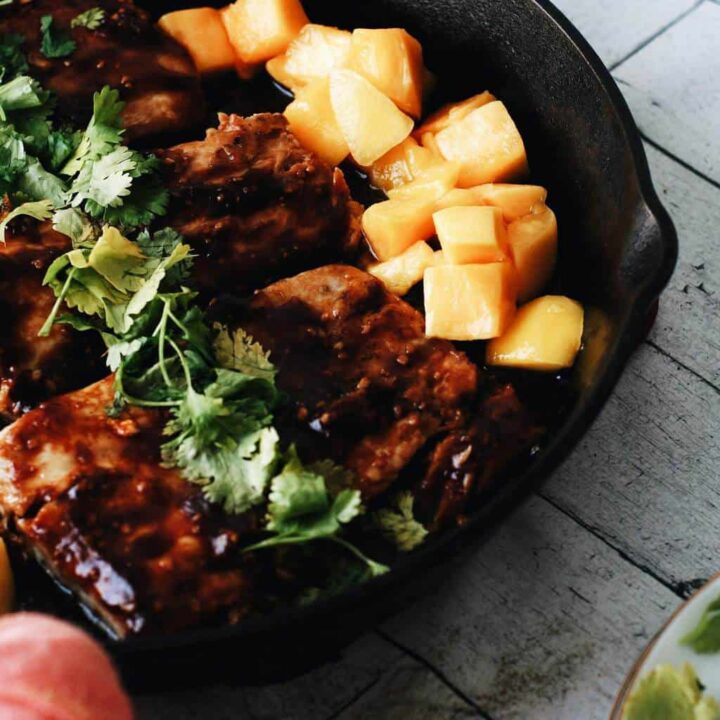 Hawaiian Style Mahi Mahi Recipe
This pan seared mahi mahi is so easy to make and so good! Made with a delicious Hawaiian sauce plus mango chunks to brighten it up. This is the best!
Ingredients
3 Mahi Mahi Fillets (skinless)
1 tablespoon Coconut Oil
½ cup Tamari (gluten free soy sauce)
1 tablespoon Gluten Free Flour
1 Garlic clove (minced)
1 tablespoon Honey
1 tablespoon Gluten Free Rice Vinegar
1 cup Mango Chunks
Instructions
Making the Sauce: In a glass measuring cup or a bowl, whisk your tamari soy sauce, garlic, honey, gluten free rice vinegar, and gluten free flour together well.
You can use this sauce to marinate your fish fillets for a couple hours before pan searing and cooking or you can pour it right over the fillets in the pan.
In a skillet or frying pan, heat coconut oil over medium heat.
Sear your fish on each side for about 2-3 minutes each. Note: if the fish doesn't want to release from the pan and is sticking, give it more time until it releases fairly easily and you can flip.
If you didn't marinade, you can pour your sauce over the fish immediately.
Add the mango chunks immediately as well and let the juices seep into the sauce and the fish.
Fish should be flaky and tender when done covered in the sticky sauce.
Top with some cilantro (optional) and enjoy!
Recommended Products
As an Amazon Associate and member of other affiliate programs, I earn from qualifying purchases.
Nutrition Information:
Yield:

3
Serving Size:

1
Amount Per Serving:
Calories:

309
Total Fat:

6g
Saturated Fat:

4g
Trans Fat:

0g
Unsaturated Fat:

1g
Cholesterol:

149mg
Sodium:

2862mg
Carbohydrates:

19g
Fiber:

1g
Sugar:

14g
Protein:

44g
Nutritional information is not always 100% accurate.