This is the best gnocchi recipe and also the easiest! Some potatoes, flour, and an egg and you have an amazing and fancy-sounding meal on your hands. There are so many ways to make gnocchi these days, with cauliflower, sweet potato, and so many other ideas. I prefer to go back to basics with a regular potato gnocchi recipe. This recipe in particular is so light and airy, so simple and easy, and absolutely a fun recipe to get your hands dirty with. Let the kids in to help and gather around for a filling and delicious homemade gnocchi meal.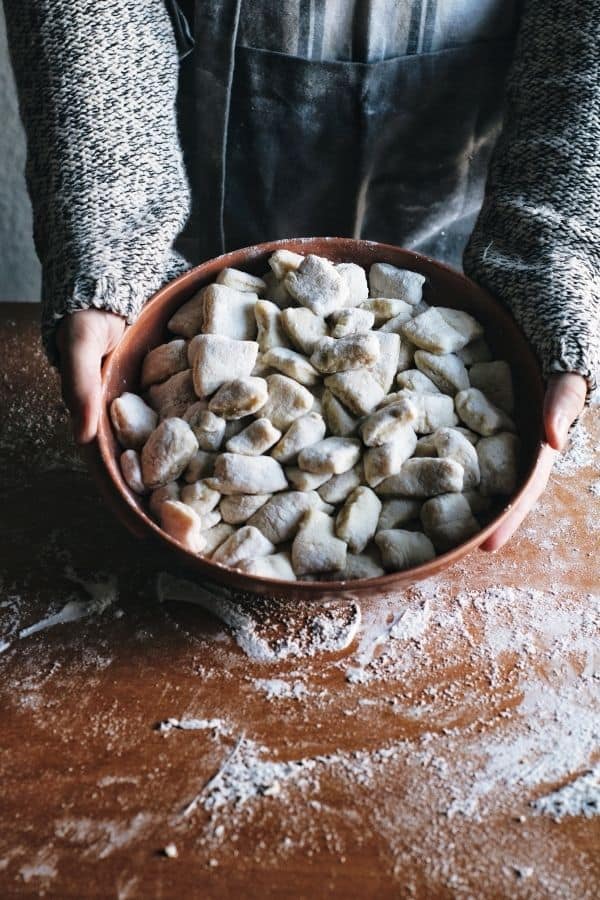 Is Gnocchi more healthy than Pasta?
In general, gnocchi can be more healthy than pasta because it uses less flour than a regular pasta recipe. This can help gluten free people and those of us trying to cut out some of the wheat intake.
This gnocchi recipe in particular is great because it is also dairy free. Most gnocchi recipe have ricotta in them (which is delicious) but not necessary for a light and beautiful gnocchi if you are looking for a simple and healthier recipe like this one.
So while its isn't necessarily a super food in terms of health, gnocchi is healthier than a lot of pasta and honestly it's absolutely delicious. So give it a try regardless. Grab a glass of wine, your favorite pesto or pasta sauce, and let's make this classic, light and fluffy, healthier gnocchi.
The Best Potatoes for Gnocchi
Potatoes are a classic choice for basic delicious gnocchi. We used our favorite, red skinned potatoes. I love the flavor of these potatoes, especially over russet potatoes. If you don't have red potatoes, golden potatoes have an amazing buttery flavor that works so well with this basic homemade gnocchi recipe.
So red potatoes or golden potatoes are the best options for a classic gnocchi with the best creamy buttery flavor. They are also a similar size so feel free to interchange them depending on what you have available at the time.
How do you make Gnocchi from Scratch?
Ideally a ricer is used to get the potatoes nice and finely mashed into the homemade gnocchi dough. However, I didn't actually use one for this recipe and it turned out wonderfully still.
Peel and cut 4-5 red or golden potatoes in half. If you have some larger ones, you probably only need 2-3. Place them in boiling water to cook until nice and tender. Make sure the water is boiling already when you put them in. Placing potatoes into water and then bringing it to a boil makes the potatoes absorb way too much water and destroys a lot of the rich flavor that is especially important in gnocchi.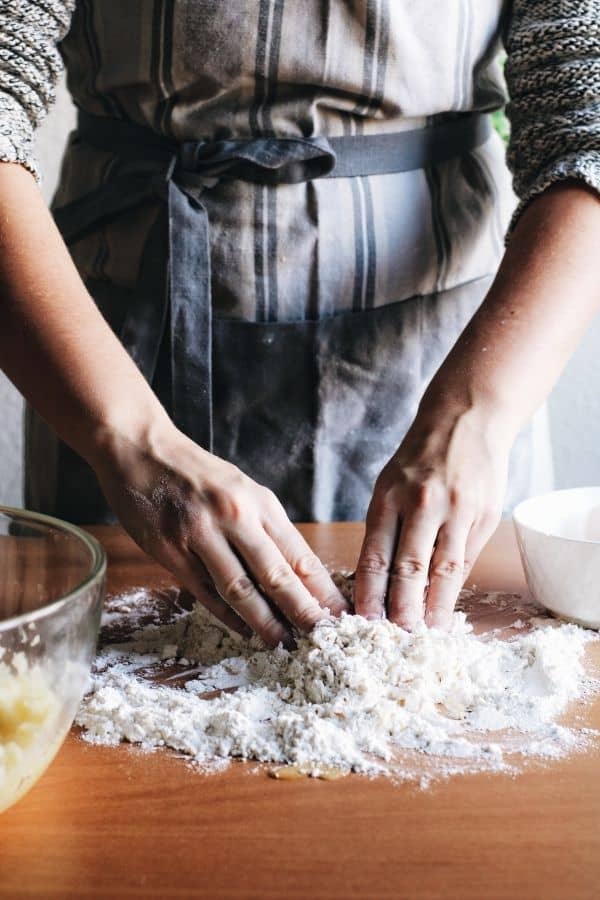 Get these potatoes really nice and tender so they are easy to mash into dough. Generally, I'll take a fork and if it goes through the potato easily and splits it, that's when I know they're good to go.
After you've taken the potatoes out of the boiling water, rinse them in cold water and let them cool for a bit.
Mixing up Gnocchi Dough
Gnocchi dough is made in a very similar way to an easy pasta dough (ta dahhh we have that recipe too 😉 ). On a flat clean surface, place your flour and make a well. Essentially, you are getting the flour to create a bowl for the rest of the ingredients.
If you are using a ricer for the potatoes, you can rice them right over the flour well. If you aren't, however, you can mash them up like you would for mashed potatoes. I have done by hand, with a fork, and with electric beaters. Either way, from there place the mashed potatoes into the flour well.
Once your potatoes are mashed or riced and in the flour well, here comes the fun part. Using your hands start to incorporate the flour into the potatoes and make a sticky dough.
Add the egg as soon as you see a dough forming and continue to work with your hands. From here, add in a tablespoon of flour at a time until the dough gets a little more manageable. It will be sticky still but this is what will also make the gnocchi super fluffy and soft when you cook it up.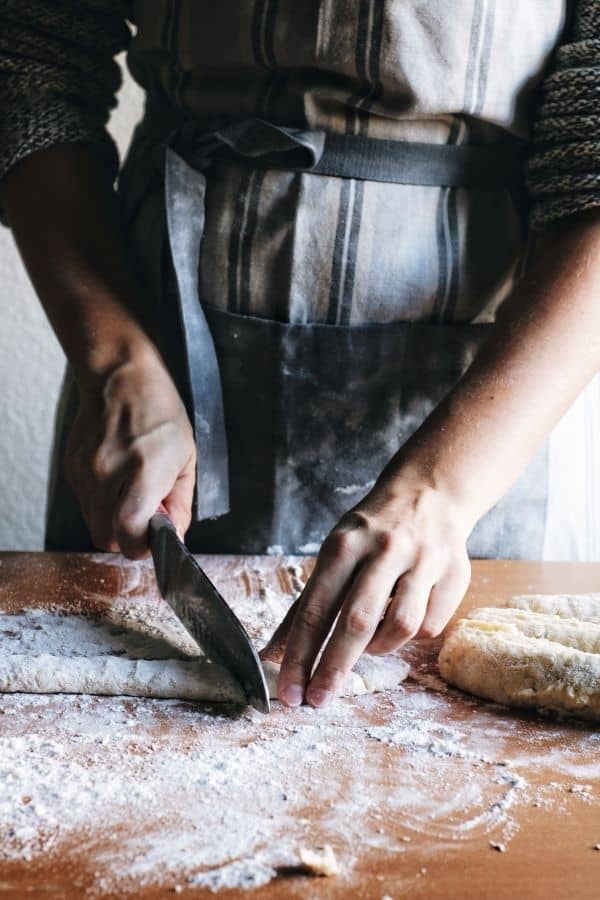 How to Shape Gnocchi
Use as much flour as you need on the surface to prevent sticking and use your hands to spread the sticky gnocchi dough out flat.
Taking a sharp knife or a dough cutter, cut into long strips. On your floured surface, gently roll out each tube one at a time. Then pinch off or cut off bite sized pieces from each tube.
Feel free to make imprints on your gnocchi pieces with a fork. If you have little helpers let them shape them into funky little shapes for fun!
Coat the gnocchi shapes in a light coating of flour to prevent them mashing back together. If this does happen, don't worry you can just re-do the rolling out and cutting process.
You can boil the best gnocchi recipe you've ever had, use it in soups, or you pan fry (my personal favorite).
This post may contain affiliate links. If you click and buy, I may make a commission at no cost to you. See my policy for more information.
Tag us on Instagram @grabthemangos and give us a rating and review right here in the comments! And don't forget to pin and save it for next time!
More Sweet recipes for you to love
Shop the Post

Best Gnocchi Recipe
This easy homemade potato gnocchi recipe will be a family favorite for you! It's so simple to make right at home in your own kitchen and is so fluffy and delicious. 
Ingredients
2 cups Flour, plus more for adding in and surface
2 cups Mashed Red or Golden Potatoes
1 Egg
Instructions
Peel and half your potatoes (about 3-4) and place in boiling water.
Cook until tender and easily mashable.
Rinse with cold water and let cool so you can easily handle them in the gnocchi dough.
On a clean surface, put 2 cups of flour down and form a well.
Add mashed cooled potatoes to the well and start to combine.
Add the egg and thoroughly combine into a sticky gnocchi dough.
Adding flour a tablespoon at a time and working into the dough until a bit more manageable.
On a floured surface flatten out the sticky dough with your hands.
Using a sharp knife cut into slices.
Roll out each slice of gnocchi dough and cut into small bite sized pieces.
Cook however you like gnocchi best, covered in sauce, pan fried, or in a soup, and enjoy!
Nutrition Information:
Yield:

4
Serving Size:

4 people
Amount Per Serving:
Calories:

323
Total Fat:

2g
Saturated Fat:

1g
Trans Fat:

0g
Unsaturated Fat:

1g
Cholesterol:

47mg
Sodium:

27mg
Carbohydrates:

65g
Fiber:

4g
Sugar:

1g
Protein:

10g
Nutritional information is not always 100% accurate.