We decided to do something different with our fun little whipped coffee recipe and turned it into a frozen yogurt recipe. Can we just say- it's amazing! If you are a coffee lover then you will LOVE this frozen treat this summer. The whipped fluffy texture of the dalgona coffee makes this a perfect, easy, no churn frozen yogurt. Add in some chocolate chips, some crunchy pecans, or even an extra drizzle of maple syrup to the bowl and you have the perfect coffee flavors summer time dessert. Since it's coffee... can we have it for breakfast? We vote yes. I mean, it's coffee and yogurt- breakfast, snack, dessert- it's all of it.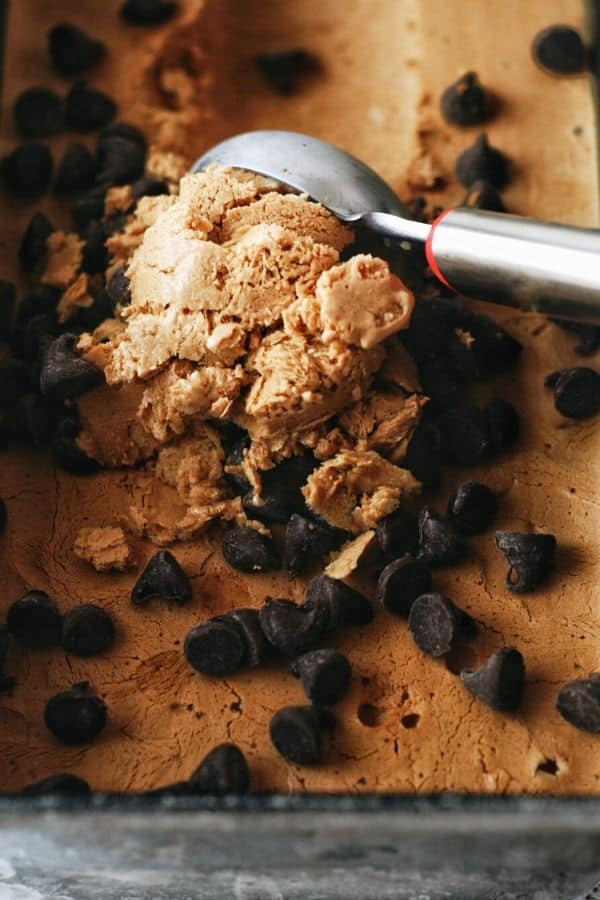 How to make A Frozen Yogurt Recipe
This post may contain affiliate links. If you click and buy, I may make a commission at no cost to you. See my policy for more information.
Ingredients needed:
Boiling Water
Maple Syrup
Greek Vanilla Yogurt (other flavors work too- raspberry, blueberry, whatever you think would taste great with coffee)
Can you just freeze yogurt to make frozen yogurt?
Not quite. It will turn into something more like an ice cube if you simply just freeze it. It's very similar to regular ice cream in how it's made. Most of the time it's churned until the right consistency is achieved.
This recipe however, is a no churn froyo. Why? Because of all that air you whipped into your dalgona coffee. We found it really worked well to fold the whipped coffee into a creamy vanilla yogurt and freeze for about 2-3 hours.
All that air in the whipped coffee helps to lighten the yogurt up and make it more of a soft "nice cream" type texture when you take it out of the freezer.
Just make sure to not over freeze. If you do this, it will get just a bit to ice-cube like and you will have to let it sit out on the counter for a bit to de-thaw until it's soft again.
Is frozen yogurt better for you than ice cream?
This depends on a lot of factors. Namely what kind of froyo you eat and what kind of ice cream you eat.
Frozen yogurt technically has fewer calories and is lower in saturated fats. BUT a low fat ice cream is about the same. They both tend to have to same amount of sugar though.
Honestly, eat whichever one you like the taste of better! Especially this drool worthy one.
What should I freeze it in?
Once you have gently made and folded together your frozen yogurt recipe, you can freeze it. We used a bread loaf pan to freeze it and it worked super well. You can also use freezer boxes, or even cake pans.
Try to avoid glass as the glass may crack and break with the temperature changes.
You don't need any kind of parchment paper or non-stick spray.
How to store for later
If you need to put some away for later, make sure to cover in plastic wrap and place back in the fridge. It will get pretty frozen after too long in the freezer but still just soft enough to scoop. The best thing to do is just let it sit on the counter for ~30 minutes (longer if you really want it to soften up) to get it back to that frozen yogurt texture. Enjoy for up to a week after making it.
Hope you enjoy this recipe!
This post may contain affiliate links. If you click and buy, I may make a commission at no cost to you. See my policy for more information.
Tag us on Instagram @grabthemangos and give us a rating and review right here in the comments! And don't forget to pin and save it for next time!
More Sweet recipes for you to love
Shop the Post

Dalgona Coffee Frozen Yogurt Recipe
Total Time:
2 hours
10 minutes
This frozen yogurt recipe has no ice cream maker or machine needed and is full of coffee flavor. Healthy, easy, and a little bit tart from the yummy yogurt. Have homemade Greek frozen yogurt with whipped coffee any time!
Ingredients
2 tablespoon Instant Coffee
2 tablespoon Maple Syrup
2 tablespoon Boiling Water
1 cup Vanilla Greek Yogurt (or your favorite flavor)
Instructions
Make your whipped coffee first, combining the boiling water- instant coffee- and maple syrup. Whip it up with an electric mixer until it's fluffy like whipped cream. (3-5 minutes)
Place your Greek yogurt into a bowl and fold in your whipped coffee slowly and gently with a spatula to make sure as little air as possible escapes.
You can add chopped pecans, chocolate chips, crushed pretzles... etc.
Pour into a loaf pan or freezer container, cover with plastic wrap, and freeze for 2-3 hours (depending on how soft you like it)
Scoop into bowls when it's done and top with whatever toppings you like and enjoy!
Notes
If the froyo comes out a bit too frozen for your taste, let it sit on the counter for 30 minutes to soften for a bit.
You can keep this in the freezer for up to a week covered in plastic wrap and again leave out for a bit to soften when you want to eat it.
Greek yogurt is much creamier and thicker than regular yogurt so it will make a difference if you choose to use something else.
Nutrition Information:
Yield:

5
Serving Size:

1
Amount Per Serving:
Calories:

56
Total Fat:

0g
Saturated Fat:

0g
Trans Fat:

0g
Unsaturated Fat:

0g
Cholesterol:

1mg
Sodium:

17mg
Carbohydrates:

10g
Fiber:

0g
Sugar:

9g
Protein:

4g
Nutritional information is not always 100% accurate.