It's that time of year when everyone wants everything bunnies, pastels, and carrots. It's springtime! And the perfect way to celebrate is these made-from-scratch classic carrot cake cupcakes with the BEST cream cheese frosting! So easy to make, it will quickly become one of your favorite carrot cake recipes!
ingredients for carrot cake
This recipe has two contributing factors, olive oil and buttermilk! Olive oil goes so well with the flavors of carrot cake which is basically a spice cake, it has strong flavors so the olive oil will not overpower the cupcakes. Plus using olive oil also makes this cake the tiniest bit more healthy, since olive oil has less saturated fats than most other oils. But what olive oil really brings to this cake is moisture and texture. The buttermilk gives it a little tang that goes well with the spices of the cake as well as giving the cupcakes a softer texture. I made my own buttermilk in this recipe since I know a lot of people won't have buttermilk on hand. You can easily make your own by mixing vinegar with milk, in this case, I used apple cider vinegar because the flavors go so well with the cinnamon, allspice, nutmeg, and ground cloves that are added to carrot cake.
How to make carrot cake batter?
First things first, pre-heat the oven to 375 and then peel and shred up your carrots. This recipe uses about 2-3 carrots for about 2 ½ cups of shredded carrots. Use a small grater side of the box grater to finely grate carrots.
Then make your buttermilk by mixing milk and apple cider vinegar. Set that aside as well.
From here you do all the normal batter-making things. Mix the dry ingredients in a bowl (flour, baking soda, salt, spices). Mix the wet ingredients in a bowl (sugar, eggs, oil, vanilla). Right before combining both dry and wet ingredients, add in the buttermilk. Then you can proceed to mix the dry ingredients into the wet mixture. Fold in the shredded carrots and boom, you're done making carrot cake batter. Easy peasy right?
Now prepare your cupcake tin with cupcake liners and fill about ¾ the way full. Next, bake for 20-25 minutes until a toothpick inserted in the middle comes out clean.
How to make Cream Cheese Frosting?
Nothing goes better with carrot cake than cream cheese frosting! I mean seriously, is there anything better? I'm not gonna lie- after frosting the cupcakes, I definitely ate the rest of this frosting with a spoon. Not even mad about it either. Live a little.
Use block full-fat cream cheese! Reduced-fat cream cheese and cream cheese spread has higher liquid content and can result in softer, runnier frosting. So use a block of full-fat cream cheese.
Make sure butter is softened. Butter should be softened before beating it with cream cheese or you may end up with lumpy frosting. Take the butter out of the refrigerator about an hour before making frosting to let it get to temperature. Or, use the correct microwave setting to soften butter. (Consult your manual.)
Do not over-beat. Make sure not to beat the cream cheese and sugar for too long. Powdered sugar actually helps bring the liquid out in the cream cheese so beating it for too long will result in runnier frosting. Beat butter and cream cheese first, and then add powdered sugar and beat just until incorporated.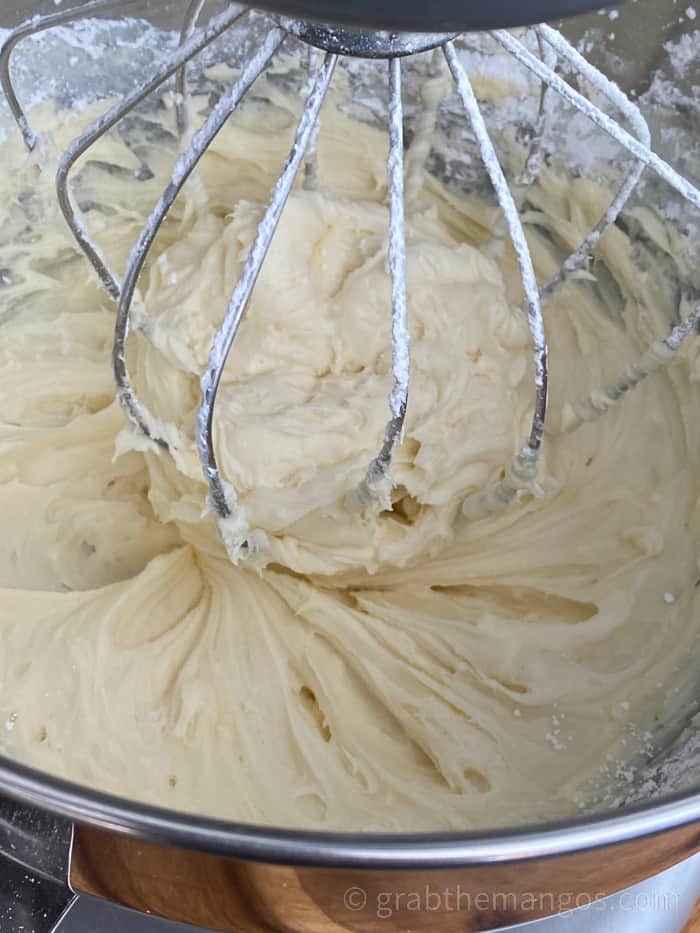 How to store carrot cake cupcakes
Frosted Carrot Cake Cupcakes should be stored in the refrigerator because the frosting is dairy-based and should not be left at room temperature for longer than a couple of hours. Place frosted cupcakes in an air-tight container with a lid and keep refrigerated.
Let us know if you made this recipe by tagging us on Instagram @grabthemangos and #grabthemangos we love seeing all the things you've tried!
Connect with Grab The Mangos!
Be sure to click below and follow me on my social media, so you never miss a recipe.
Carrot Cake Cupcakes
Total Time:
1 hour
5 minutes
These made from scratch, easy, moist carrot cake cupcakes with homemade cream cheese frosting are absolutely delicious! 
Ingredients
Super Moist Carrot Cake Cupcakes
2 ½ cups Shredded Carrots, about 2-3 carrots
2 cups Flour
2 teaspoon Baking Soda
2 Eggs
1 ¼ cups Sugar
½ cup Olive Oil
¾ cups Milk
2 tablespoon Apple Cider Vinegar
pinch salt
3 teaspoon Cinnamon
2 teaspoon All Spice
1 teaspoon Nutmeg
¼ teaspoon Ground Cloves
1 teaspoon Vanilla
Cream Cheese Frosting (double recipe if using a piping tip)
8 oz Cream Cheese
½ cup butter, softened
3 cups Powdered Sugar
2 teaspoon Vanilla
Instructions
Super Moist Carrot Cake Cupcakes
Preheat the oven to 375.
Shred about 2-3 carrots with the small side of a box grater and set aside.
In a glass measuring cup, combine the milk and apple cider vinegar and set aside.
In a mixing bowl combine the dry ingredients- flour, baking soda, salt, and spices.
In a separate large mixing bowl combine the wet ingredients- eggs, sugar, vanilla, olive oil, and the buttermilk mixture.
Pour the dry mixture into the wet slowly mixing together well.
Fold in the shredded carrots thoroughly.
Prepare your cupcake tin with cupcake liners and fill about ¾ full.
Bake for 20-25 minutes until a toothpick inserted in the middle comes out clean.
Cream Cheese Frosting (see notes)
In a large bowl, beat the butter, vanilla, and cream cheese until silky.
Slowly, 1 cup at a time, add in the powdered sugar until fully combined.
Frost and enjoy!
Notes
I used a Wilton 1M piping tip to frost these cupcakes. If you plan on using a piping tip instead of just spreading it on you will want to double the frosting recipe as it tends to use more frosting.