Stir fried noodles is one of our favorite quick and easy - "wow where did the time go today- what the heck is for dinner" - meals to whip up. This fried noodle recipe is so great because these are all ingredients we normally have on hand and it's a quick throw together with delicious stir fried noodle flavor- what's not to love?
Quick and Easy Asian Meal
So my family's absolute favorite is stir fried noodles. I ask them all the time- "fried rice or fried noodles" and it's always the same answer- "if you're asking, then fried noodles." It's not because they don't like the fried rice, especially with some yum yum sauce, but because they just LOVE fried noodles. Who wouldn't choose pasta honestly? If you don't love pasta and noodles, you're just lying. Sometimes I just have to make fried rice and fried noodles because we can't decide and we like a lot of leftovers anyways. Don't judge.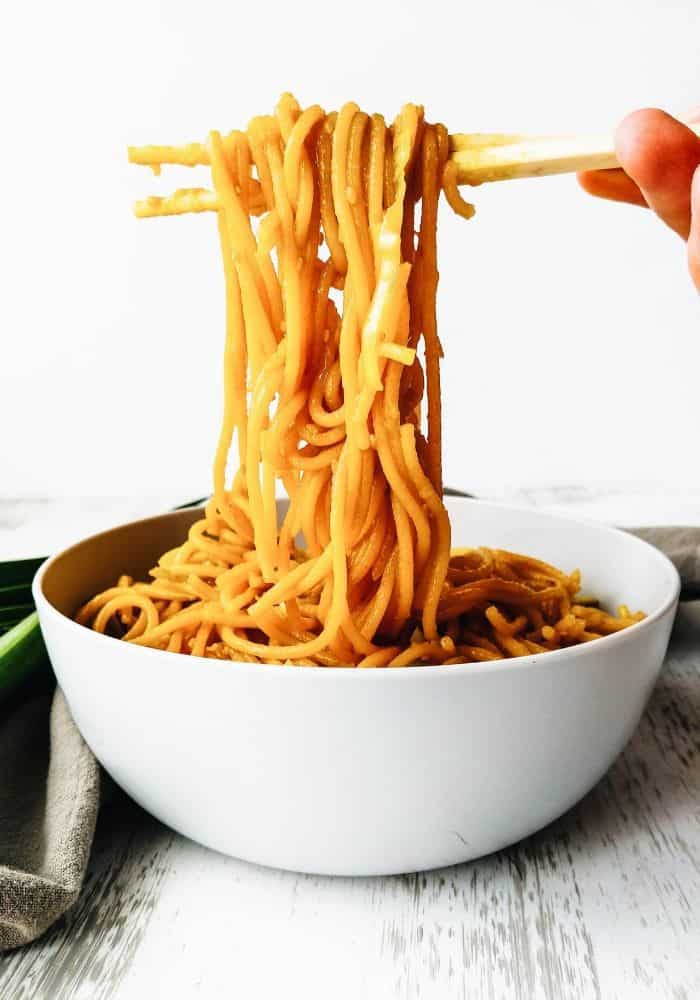 Making Stir Fried Noodles:
Start out by cooking up the noodles, like normal, in a pot with boiling water for about 5-8 minutes. We use all different kinds of noodles for this recipe and it always tastes good. Our favorite are our homemade fresh noodles but in a pinch we use regular store bought egg noodles and even some simple fettuccine noodles.
While the noodles are boiling, fry up the sesame seed oil with your favorite stir fry veggies and/or protein. We usually toss in whatever is on hand making this super versatile. Think of: onions, peppers, carrots, water chestnuts (my absolute favorite), green beans, sugar snap peas, broccoli) and chicken. We also love some shrimp or scallops if we have them on hand at the time. Once that has been cooked through and looking delicious even by itself, toss the noodles in with the oil and veggies. Add the soy sauce, Hoisin sauce, and Worcestershire sauce to the pan and toss all together. Stir up for about 5 min at least to really immerse the noodles in the sauce and absorbing flavor. Serve these stir fried noodles hot and enjoy all this easy goodness!
Notes:
Let's talk soy sauce. Not all Soy Sauces are created equal. A really good dark soy sauce will bring your flavor from good to amazing with a nice Dark soy sauce. It has so much more rich flavor.
A wok. You need one. I think everyone needs a good wok if you plan on making fried rice, fried noodles, and so many other tasty dishes. For sure get one. Trust me!
Try out those homemade fresh noodles for this recipe 😉
Stir Fried Noodles
Easy Asian stir fried noodles recipe that is so versatile and customizable! Make it with spaghetti, fettuccine, classic egg noodles, whatever you've got.
Ingredients
Egg Noodles or our Easy Rolling Pin Noodles
1 tablespoon Sesame Oil
⅓ cup Dark Soy Sauce
¼ cup Hoisin Sauce
2 tablespoon Worcestershire Sauce
Instructions
Boil noodles according to the instructions on the box or until al dente.
While noodles cook, begin to saute your favorite stir fry veggies (carrots, peppers, onions, water chestnuts, peas, green beans...) and/or meat or fish (chicken, beef, pork, shrimp, scallops...) in the sesame seed oil.
Once they are cooked through well, add the noodles and the sauces.
Stir well and keep cooking on medium to low heat to let the noodles absorb and get coated in the sauce.
Serve hot and gobble this tasty dish up!
Nutrition Information:
Yield:

4
Amount Per Serving:
Calories:

187
Total Fat:

5g
Saturated Fat:

1g
Trans Fat:

0g
Unsaturated Fat:

4g
Cholesterol:

12mg
Sodium:

1500mg
Carbohydrates:

29g
Fiber:

2g
Sugar:

6g
Protein:

6g
Nutritional information is not always 100% accurate.