Blueberry and coffee. There is no better breakfast/brunch combo. Dunkin' donuts has a blueberry iced coffee that I get every single time I go. This is that, reimagined into a smoothie because why not? Healthier, mind bogglingly delicious, and so easy to make. Coffee smoothies are my favorite, and coffee flavored everything is the way to live life. Add some blueberries with some maple syrup and creamy milk (whatever milk you like best) and blend to sweet coffee perfection.
Coffee Breakfast Smoothie Recipes
I love making a quick and easy smoothie in the morning but I also love my morning coffee. This combines the two into wonderfulness. This coffee smoothie recipe does not use bananas or instant coffee. Instead the basic ingredients for this amazing blueberry coffee breakfast smoothie are:
coffee ice cubes
milk of choice
maple syrup
fresh blueberries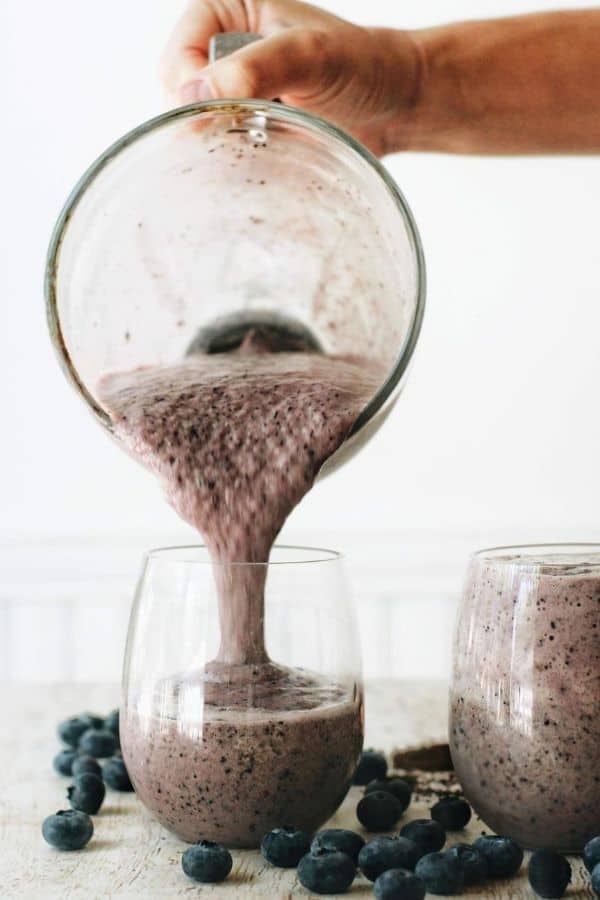 These are my basic ingredients for making a great coffee smoothie. You can definitely add other things if you want to beef up your smoothie. Things you can add:
rolled oats
chia seeds
protein powder
Making a Blueberry Coffee Smoothie
I think the best way to make a good coffee smoothie is by making coffee ice cubes. We have silicone ice cube trays that make this super easy. Any old ice cube tray will work.
Simply make a pot of coffee and pour into the ice cube tray to let it freeze over night. We made enough for about 15 coffee ice cubes. Make sure if the coffee is hot still, that you use the silicone tray or else, let the coffee cool first.
In the morning, all you need to do is pop those frozen cubes of coffee into the blender with your blueberries, milk, and maple syrup (plus whatever else you want to add) and blend up into a creamy dreamy coffee breakfast smoothie.
This recipe blends pretty easily because the coffee cubes are a bit softer than regular water ice cubes. It also tastes amazing with some coconut whipped cream on top (our favorite recipe for this is linked).
Hope you enjoy this morning delicious-ness as much as we do!
This post may contain affiliate links. If you click and buy, I may make a commission at no cost to you. See my policy for more information.
Tag us on Instagram @grabthemangos and give us a rating and review right here in the comments! And don't forget to pin and save it for next time!
More Sweet recipes for you to love
Shop the Post

Best Blueberry Coffee Breakfast Smoothie
Total Time:
6 hours
10 minutes
This amazing blueberry coffee breakfast smoothie is so easy and simple to make. FIlled with fresh blueberries, frozen coffee, and healthy maple. Made creamy with your choice of milk. SO good!
Ingredients
15 cubes Frozen Black Coffee
1 cup Milk of choice
2 cups Blueberries
1 cup Maple Syrup
Instructions
Make a fresh pot of coffee and let it cool. Pour into ice cube trays and let it freeze over night or until fully frozen (around 6 hours).
Place the frozen coffee cubes, milk, blueberries, and maple syrup in a blender and blend until smooth.
May need to pulse or stop and stir to get everything blended properly.
Enjoy just like that or with some delicious coconut whipped cream on top.
Nutrition Information:
Yield:

3
Serving Size:

1
Amount Per Serving:
Calories:

390
Total Fat:

2g
Saturated Fat:

1g
Trans Fat:

0g
Unsaturated Fat:

1g
Cholesterol:

7mg
Sodium:

80mg
Carbohydrates:

91g
Fiber:

2g
Sugar:

75g
Protein:

5g
Nutritional information is not always 100% accurate.