The Kentucky Derby is coming up! Normally it's in the spring, but because it's 2020 and things are just weird all over the place- well, this year it's September 5th. Any chance to have some delicious food and think about fun things this year sounds good to me. So we made these no bake cheesecake jars with an amazing, salty, sweet, bourbon candy bacon on top. Sound drool worthy? It is! If you love cheesecake, bacon, bourbon, all good things, and of course horses, then you are in the right place. Let's make some yummy desserts.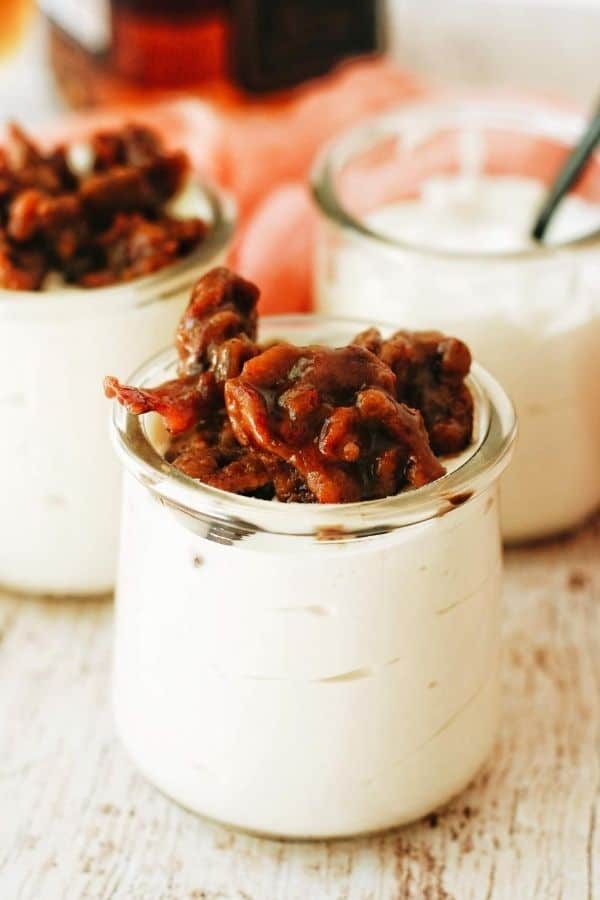 No Bake Cheesecake Jars
We love a classic cheesecake but sometimes you just want something easier right? This recipe for no bake cheesecake jars is so easy. No baking, no eggs, just a handful of ingredients whipped together and chilled. Easy peasy.
Ingredients needed:
Plain Greek Yogurt
Cream Cheese
Maple Syrup
Vanilla
Lemon
That's seriously all you need to make delicious cheesecake jars whenever you want. The best part is that this recipe uses slightly healthy ingredients, like maple syrup instead of refined sugar. We're not saying it's "healthy" per say. Just a bit lighter and easier so you can pile on that bourbon candied bacon.
All you need to do to make your cheesecake jars is whip the ingredients together for about 5 minutes. Really get it nice and smooth and beat that fluffy air into it. This recipe is not overly sweet to allow the creamy texture to shine along with the strong candied bacon flavor.
Bourbon Candy Bacon Recipe
Some bourbon candy bacon is always the ticket to take a dessert over the top. The 3 key things to remember making this recipe are:
Cut the bacon small and cook until crispy first, then drain the grease.
Cook the sugar in the bacon on low heat for 10-15 minutes to make sure the granules of sugar are really dissolved. Otherwise you will get a crumbly, sand like mixture at the end.
Make sure to add the little bit of bourbon, butter, and cream/milk off the heat at the end. This helps the texture as well as keep the bourbon from simply all burning off in the heat.
PS- we got these cute little dessert jars from this yogurt brand. Oui is such a good yogurt and comes in these adorable little jars which we then repurposed. They are at most regular grocery stores.
Let the candied bacon bourbon mix cool down quite a bit before serving on the chilled cheesecake jars to make sure the cheesecake mix doesn't just melt underneath it.
This recipe makes about 3-4 little dessert jars but you can definitely double the recipe if needed.
Hope you enjoy this recipe as much as we do!
This post may contain affiliate links. If you click and buy, I may make a commission at no cost to you. See my policy for more information.
Tag us on Instagram @grabthemangos and give us a rating and review right here in the comments! And don't forget to pin and save it for next time!
More Sweet recipes for you to love
SHop the Post

No Bake Cheesecake Jars with Bourbon Candy Bacon
Total Time:
1 hour
10 minutes
This super easy, drool worthy, no bake cheesecake recipe is placed in jars and topped with a sweet and salty bourbon candied bacon. Perfect for an over the top but easy to make dessert!
Ingredients
8 oz Cream Cheese
½ cup Plain Greek Yogurt
2 tablespoon Maple Syrup
1 teaspoon Vanilla
1 teaspoon Lemon Juice
4 large pieces of Thick Cut Bacon
½ cup Granulated Sugar
1 tablespoon Butter
2 tablespoon Cream or Milk
¼ cup Bourbon
Instructions
In a medium mixing bowl, whip together your cream cheese, yogurt, vanilla, lemon juice, and maple syrup.
Whip with beaters for at least 10 minutes to get air into the mixture.
Place in jars and chill in the fridge for about 45 minutes.
While the cheesecake jars chill, make your candied bacon mix.
Using scissors, cut thick pieces of bacon into small pieces.
Place in a pan and cook until crisp over medium- high heat.
Drain the grease carefully **
In the pan with the crispy bacon bites, add your sugar. Cook the sugar over low- medium heat for about 10 minutes until it turns a dark iced tea color. Be careful to keep an eye on it so it doesn't burn.
Take the mix off the heat completely and add the butter, cream or milk, and bourbon and mix together carefully.
Let it cool and when you are ready to eat, serve the bacon bourbon mixture over the cheesecake jars.
Enjoy!
Notes
** Be very careful draining the grease. Make sure there are no flames, turn off the stove completely and wear oven mitts. Drain grease into a bowl or a jar, not down a drain.
Nutrition Information:
Yield:

4
Serving Size:

1
Amount Per Serving:
Calories:

463
Total Fat:

27g
Saturated Fat:

16g
Trans Fat:

0g
Unsaturated Fat:

9g
Cholesterol:

83mg
Sodium:

297mg
Carbohydrates:

39g
Fiber:

0g
Sugar:

34g
Protein:

10g
Nutritional information is not always 100% accurate.