Who wouldn't like some fresh and easy buttermilk naan bread right in their own home whenever they want? This Indian bread is so yummy and versatile. We eat it all the time with soups, turned into pizza, as a wrap, and mostly as a dipper for hummus- super yummy! Whatever you do with it, it's amazing and a super simple recipe right here.
Buttermilk
Naan traditionally is made with a acidic dairy fat (like yogurt or buttermilk) to give it that amazing flavor and chewiness. This Naan recipe has a buttermilk mixture that you make right in the recipe- no need to run out to get buttermilk, yay!
By combining the apple cider vinegar and the milk, you create a buttermilk mixture that will give this naan recipe a crazy amount of heavenly flavor and texture. Seriously, so good!
So what does buttermilk actually do? It helps to give the bread flavor sure, but one of the best things it helps to do in breads is tenderize the gluten. The acidity that comes from the buttermilk does this which helps give the bread more body and a softer texture. It also helps the bread to rise. Win win!
Easy buttermilk naan dough
Using a glass measuring cup, mix the milk and apple cider vinegar together to form the buttermilk and set aside. Then, in a nice big mixing bowl, combine the warm water, yeast, and sugar. The sugar helps the yeast to do it's job even better by being a food for the yeast. It also, of course, adds flavor. Stir and let sit until it becomes fully dissolved and creamy looking.
Add the flour plus one egg and a tablespoon of Ghee or olive oil (our preference is ghee) and the buttermilk to the yeast and sugar mixture and combine to make a dough ball. Place the dough ball into a greased bowl and cover with a damp towel to rise until doubled in size (about 30 minutes).
As soon as the dough has risen, punch it down- yes literally make a fist and punch that sucker right back down. Take the dough you just beat up out of the bowl and divide into 6-8 pieces.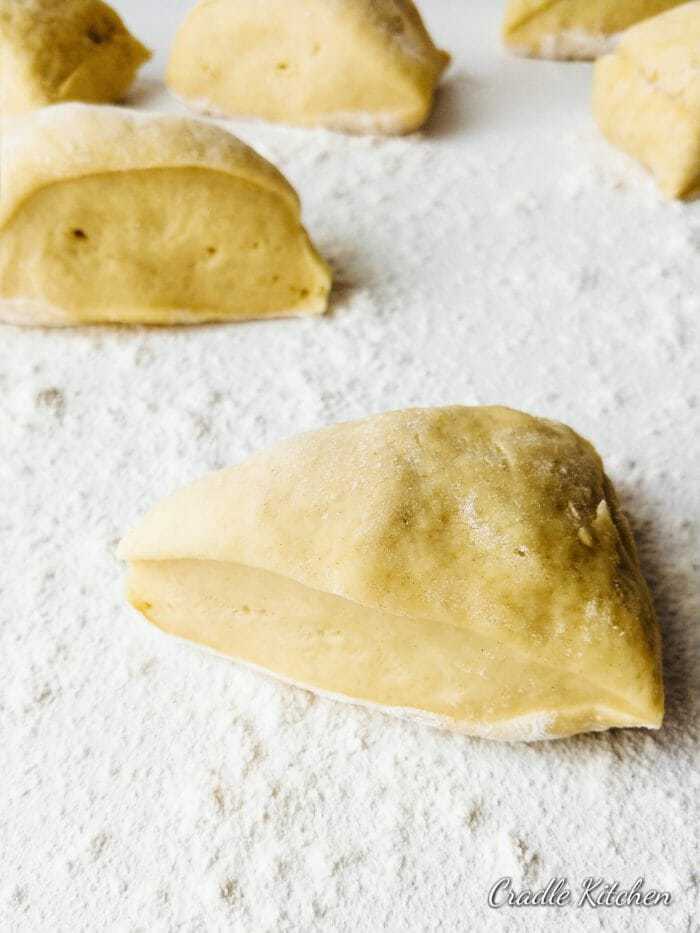 Shaping naan dough
On a clean, lightly floured surface, take a piece of dough and roll it out flat. We like ours to be larger and thinner, because we like the crisp edges and use it for wraps. But, depending on what you have in mind for your naan bread, you may want to keep it a little smaller and thicker for things like naan dippers and hummus.
Once you've rolled them all out, heat some ghee or olive oil in a cast iron skillet. Again our preference is ghee for the flavor but olive oil is super good too if that's more your jam. Now, a normal frying pan works as well, BUT if you don't have a skillet and just aren't sure what to do with one- trust me it will change your life. I had no clue what to do with mine when I first got it. As soon as I got one, though, it became very clear why they are an ESSENTIAL kitchen tool for so many. They can do it all believe me, and the flavor they give the dish is spectacular.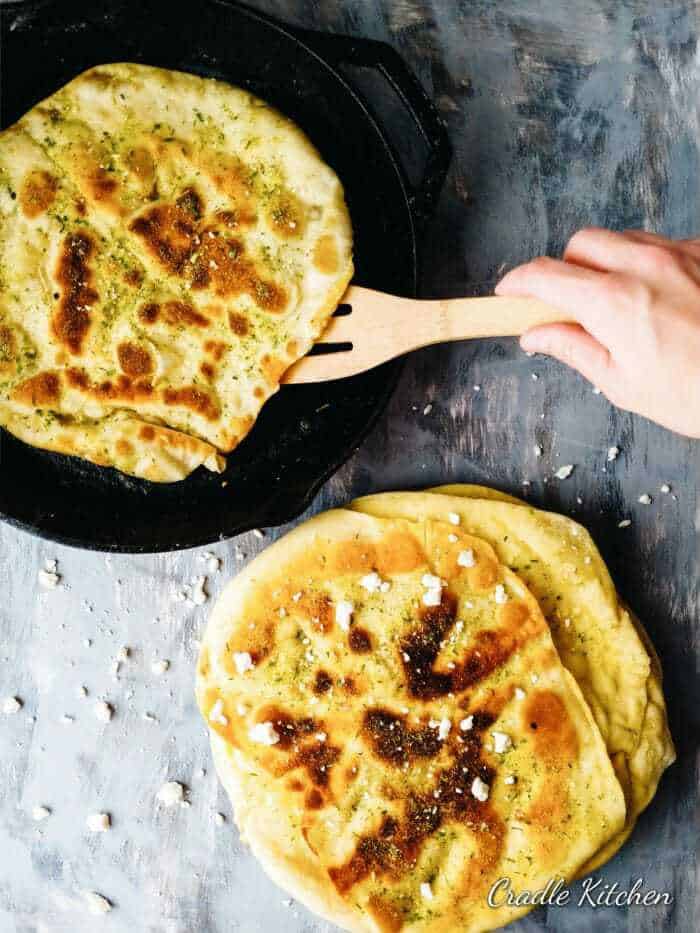 Frying Naan Bread
So we LOVE cooking and baking with ghee. My husband and kids have some dairy intolerance's but ghee seems to work really well still. However, you can definitely sub in some olive oil if you don't have ghee on hand or just aren't feeling it.
Heat the ghee or olive oil in a skillet on medium heat. Carefully place one of your buttermilk naan dough pieces into the pan to fry for about 1-2 minutes on each side or until you start to see it bubble up and get golden brown.
Once all your naan has been cooked you can top it with seasonings like onion salt, garlic, or even just salt and pepper, or hey leave it plain! Either way, enjoy this amazing and easy to make buttermilk naan bread 🙂
If you LOVE this easy buttermilk naan recipe and want more bread eat, try our Oatmeal Honey Bread Machine Bread. Or if you want something to go with this amazing Naan bread, try out our Split Pea Soup. YUM!
Easy Buttermilk Naan
This easy Indian Naan Bread recipe made with buttermilk and yeast will rock your world! Made with no yogurt but loads of flavor, use it for pizzas, wraps, complete quick easy dinners and meals, dip in hummus. So many ideas to use naan bread for!
Ingredients
½ cup Water , Luke Warm
2 teaspoon Yeast
1 teaspoon Sugar
¼ cup Whole Milk
½ tablespoon Apple Cider Vinegar
2 ½ cups All Purpose Flour
1 Egg
2 tablespoon Ghee or Olive Oil, plus more for frying
Instructions
In a glass measuring cup mix together the whole milk and apple cider vinegar and set aside.
In a nice big mixing bowl, combine the water, yeast and sugar and stir until fully dissolved and creamy looking.
Add the flour, egg, ghee (or olive oil), and the buttermilk mixture from earlier and combine to form your naan dough.
Place the dough ball in a greased bowl and cover with a damp cloth to rise until doubled. (about 30 minutes)
Punch the dough down once doubled and divide into 6-8 pieces.
Roll each piece out flat on a clean and lightly floured surface.
Fry each piece in a hot skillet with ghee or olive oil over medium heat. About 1-2 minutes each side or until golden brown.
Top with whatever seasonings or toppings you love best and enjoy as dippers in hummus, naan bread pizza, or whatever other ideas you can come up with!