Cilantro. Love it or hate it? I'm assuming you love it because you're here. Well this creamy cilantro sauce is literally (and yes I do mean literally) good on everything- all kinds of tacos, burritos, burgers, chicken sandwiches, to dip grilled chicken in, for enchiladas, the list is endless. It is amazing and that's all there is to it!
We have had to go mostly dairy free recently and so our enchilada, taco, and burrito sour cream and cheese toppings have disappeared. Yes, there were tears. But then I came up with this creamy cilantro sauce for EVERYTHING, and between this sauce and our homemade sriracha yum yum sauce, I honestly don't think we'd go back if we could. These sauces are better than CHEESE. That's how good they are.
Cilantro Sauce Ingredients
This cilantro sauce has a secret ingredient- whole grain mustard. In a pinch regular dijon mustard will work fine BUT to make this sauce as incredible as we know it is, get the whole grain mustard ASAP. It is amazing on sandwiches, in dips and sauce like this, and just adds so much extra flavor wherever you use it.
Let's talk mayo. There is only one tablespoon of mayo in this sauce. A lot of people think that mayo is super bad for you when actually it's a delicate dance with this condiment. Basically, mayonnaise has very similar benefits to avocados. Loaded with healthy fats and oils, the trick is making sure you don't cross the line into just a ton of calories. About a tablespoon (ahem- like what's in this recipe) is actually very good for you and doesn't cross that calorie line. So it's the perfect creamy ingredient.
Making the Sauce
This sauce whips up in about 5 minutes making it even more of a staple in our house. I like to use my bullet blender for this sauce and, let's be honest, pretty much everything else that needs blending. If you don't have one, get one! So worth it, not that expensive, and can be used everyday. The bullet blender is smaller- ideal for my small SMALL kitchen. It's light weight and makes 1-2 servings vs. an entire pitcher that will just go bad. All in all, I've been using mine for 6 years now and I still love it!
To make this cilantro sauce, place all the ingredients in the blender and puree until fully blended and delicious. I would definitely salt and pepper it last to make sure you have the right amount for your taste buds.
That, my friends, is all you have to do! Drizzle over fish tacos, shrimp tacos, chicken or beef tacos, burritos, sandwiches, enchiladas, EGGS even. Oh my gosh the ideas for this sauce are all good and endless. Pour this stuff on everything and be a happier person for it. This creamy cilantro sauce will change your life.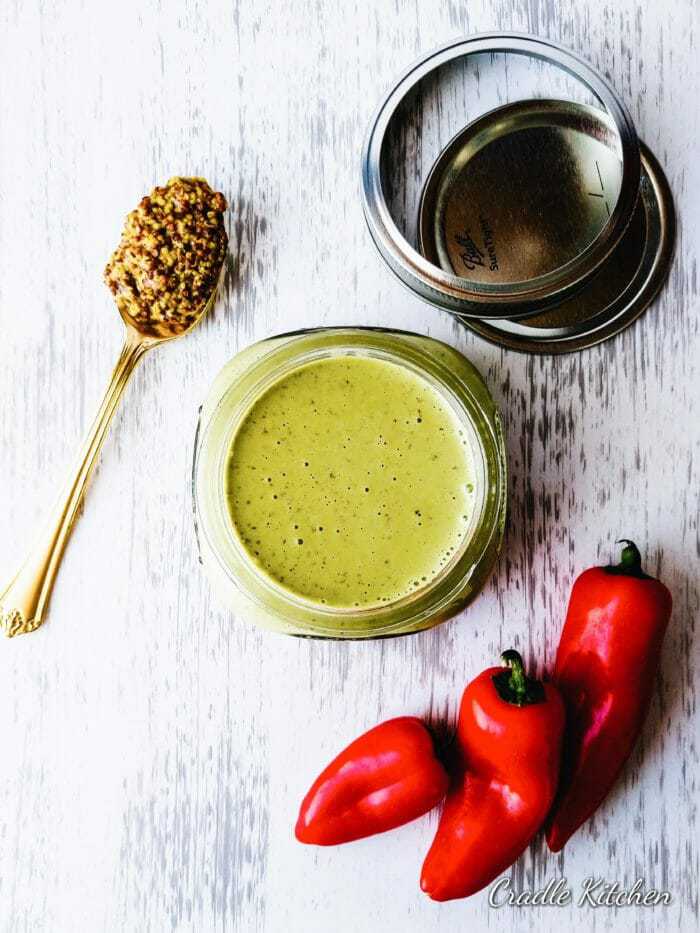 Storing Your Sauce
This sauce will store in a mason jar or Tupperware in the fridge for about 2 weeks.
If you are super into making all your foods amazing with homemade sauces, check out and try our Maple Chili BBQ Sauce. Or for something sweeter, our Strawberry Sauce- perfect for breakfast foods.
Tag us on Instagram @grabthemangos and give us a rating and review right here in the comments! And don't forget to pin and save it for next time!
Everything Creamy Cilantro Sauce
This creamy healthy cilantro sauce recipe is amazing on everything! From fish tacos to veggies and salads to bean and rice- add it to every appetizer and meal.
Ingredients
1 bunch Fresh Cilantro, ~1 cup
1 tablespoon Whole Grain Mustard
1 tablespoon Mayo
2 teaspoon Rice Vinegar
½ cup Water
1 teaspoon Honey
1-2 cloves Garlic, to taste
Salt and Pepper, to taste
Instructions
Place all the ingredients in a blender and puree. That's it, you're all done and you have an amazing cilantro sauce for everything!
Nutrition Information:
Yield:

8
Serving Size:

8 oz
Amount Per Serving:
Calories:

18
Total Fat:

1g
Saturated Fat:

0g
Trans Fat:

0g
Unsaturated Fat:

1g
Cholesterol:

1mg
Sodium:

72mg
Carbohydrates:

1g
Fiber:

0g
Sugar:

1g
Protein:

0g
Nutritional information is not always 100% accurate.