So why this Oatmeal Honey Bread Machine Bread? Well I got a bread machine from my mother in law a few years back actually kind of by accident. I found it in her basement and it was brand new in the box just sitting there collecting dust- gasp!! I told her if she didn't have a use for it I would happily take it and use it. So now I am the proud owner of a bread machine and I LOVE this thing let me tell you.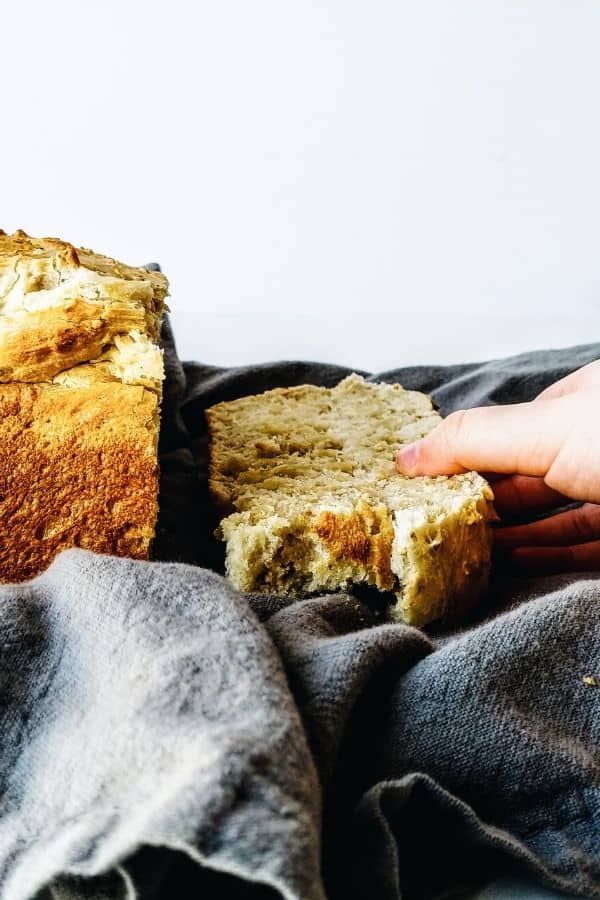 Bread Machines:
Bread machines are the crock pots for more carbs. You put the ingredients in press a button and wait around for the magic to come out. I will be the first to admit I have a carb problem. I love me some carbs- pastries, donuts, breads, pastas, you name it. The only time I have ever refused carbs was when I was pregnant with my second because I was hoping for a better time with pregnancy the second time around (first time I blew up like a balloon). Well I wound up gaining a lot less and feeling better through the pregnancy sure but I wound up having a big ol' 9 and ½ lb baby boy- Axel. Woah right? And the first thing I ate not 1 hour after that delivery- a loaf of bread with butter and honey. Yesss. Best thing ever. And nothing beats fresh baked bread that's warm and soft and chewy with some butter slowly melting on top. I could eat the whole loaf in the first hour of being out of the oven (and I definitely have).

Where can I get a bread machine?
There are a lot of places to get a bread machine. Places like Target, Wal-Mart, even Bed Bath and Beyond have bread machines. You can even usually find quite a few at the thrift stores BUT make sure to ask an employee to check and make sure it works when plugged in first if you're looking there. Check your mother in laws basement too because you just never know right? I would definitely recommend the Hamilton Beach bread machine if you're looking for a good price which you can find through the link, or the Cuisinart bread machine. Both of those have 12 setting options including gluten free and jam settings- that's right you can make jam in the bread maker- mind blown. It is our favorite thing to have and I definitely wouldn't give it up that's for sure. Homemade bread is everything.

Oatmeal Honey Bread:
Ok, so this oatmeal honey bread is so so yummy. It is mildly sweet which makes for amazing toast and sandwiches. It's also chewy and fluffy with the texture of the oats just bringing it over the top for goodness.
Add everything in the order your bread machine manufacturer recommends (mine is: wet ingredients, then dry, then yeast last, but yours could be different).
Set the machine on the dough cycle and let it go. We like to bake this bread in the oven. I think it gets a much crispier crust, better shape, and better bake. You can definitely set it to a basic or white bread cycle and leave it alone completely but I really recommend just transferring to the oven for about 30 min instead.
Bake at 350° for 20-30 min or until the crust is golden brown and when you lightly knock on the top, the inside sounds hollow meaning it's done.
Enjoy with butter, jam, honey, cinnamon sugar… etc. It is also amazing as a grilled sandwich with some butter and garlic powder on the outsides. Trust me- so so good! No matter how you eat it, it's delicious. Let us know if you made it on Instagram @cradlekitchen or right here in the comments below! Enjoy 🙂
Tag us on Instagram @grabthemangos and give us a rating and review right here in the comments! And don't forget to pin and save it for next time!
If you love this recipe, head over to make The Best Split Pea Soup which pairs amazingly well with this bread!
Oatmeal Honey Bread Machine Bread
Machine Time:
1 hour
30 minutes
Total Time:
1 hour
55 minutes
The oatmeal honey bread machine bread is an easy, healthy, sweet, chewy, homemade bread recipe that won't disappoint! It's super soft, full of oats and honey, and absolutely the best bread machine bread recipe ever!
Ingredients
1 cup water
⅓ cup Olive Oil
¾ cup Oats, steel cut or rolled works
¼ Honey
2 ⅓ cups Flour
Pinch of Salt
1 teaspoon Yeast
Instructions
Add the ingredients in the order suggested according to the manufacturer.
Set to the dough cycle.
Pre-heat oven to 350.
Butter a bread pan.
Once done on the dough cycle pour the sticky wet dough into the buttered bread pan and bake for 20-30 min or until golden brown on top and baked through.
Enjoy with butter and toppings or as a sandwich bread!
Recommended Products
As an Amazon Associate and member of other affiliate programs, I earn from qualifying purchases.