Who didn't eat those weird little extreeeemely cheap packets of fake ramen noodles at some point in their lives? Usually when people think of ramen noodles, they think of those little packets of instant, gross, but somehow comforting, noodles. This easy ramen noodle soup recipe is levels above that for taste and health (let's be real those packets did everything for the bank account and nothing for your actual health). But we have kept the simplicity and ease in this ramen noodle soup recipe. This is my go to for an easy delicious weeknight dinner!
Quick Ramen Noodles
This post may contain affiliate links. If you click and buy, I may make a commission at no cost to you. See my policy for more information.
Traditional ramen noodle takes around 3 days to make. It's an entire process which is AMAZING and you should definitely try getting some at some point in your life. But, I don't have the time for 3 day long meal with everything and everyone else I need to take care of.
This is actually one of our go to favorite meals when it's a quick or late dinner type of night. This meal is dairy free, gluten free, and super customize-able.
We use the BEST gluten free noodles ever from Thrive Market. Their Millet and Brown Rice Ramen Noodles are completely amazing and gluten free, keto friendly, delicious noodles. They are also super affordable at only $4.49 and there are four single serving blocks of noodles inside the bag- win!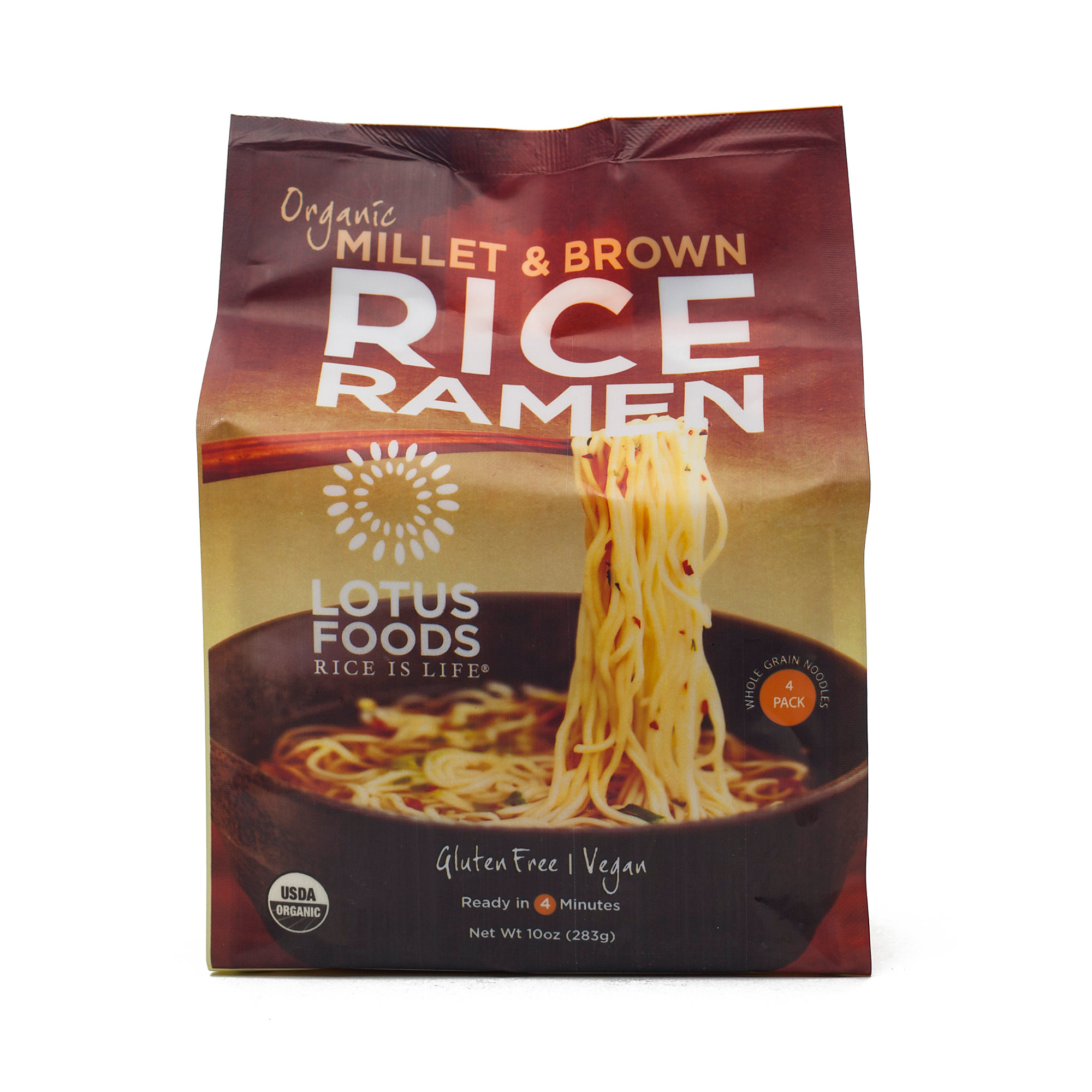 If you don't have a Thrive Market membership, I highly recommend it especially if you are going (or are) on a special diet like gluten free, dairy free, keto, whole 30... etc. You can shop for things by diet and everything is wholesale priced. Get up to $20 in shopping credit when you purchase a Thrive Market Membership! (1 month, 3 month, and 1 year memberships available).
Read more about going gluten free easily and on a budget to get the tips, why's, and even a shopping list!
How to Make Easy Ramen Noodle Soup
So how do you make the BEST, easy, and quick ramen soup? Using your gluten free and amazing Millet and Brown Rice Noodles from Thrive Market (or whatever gluten free ramen noodles you prefer), boil them according to the package instructions. When they are done make sure to rinse in cold water.
While they are cooking, get started on that delicious broth. This broth uses chicken broth (vegetable broth works too if you want it to be vegan) and Tamari soy sauce. Tamari soy sauce is the gluten free version of soy sauce but it is also a richer and darker soy sauce than the regular kind. Honestly, use it even if you aren't gluten free. It's just that good.
In a large sauce pot, saute your veggies (onions, sliced mushrooms, diced carrots, peas...) in some coconut oil. Once those have cooked almost all the way through and are softening, add your broth and Tamari. Heat on medium heat and add your ginger and umami. The umami seasoning gives this dish that real depth of flavor that is so yummy in a homemade real ramen noodle soup.
Serve noodles in a bowl and pour the broth mixture over the top until it resembles noodle soup. To store this away for left overs, keep the noodles and the broth mixture seperate. This way the the noodles don't become soggy and gross.
Enjoy with a soft boiled egg, our favorite- avocado, chicken, pork, fish, or any other delicious toppings you can think of!
Tag us on Instagram @grabthemangos and give us a rating and review right here in the comments! And don't forget to pin and save it for next time!
More Sweet recipes for you to love
Easy Ramen Noodle Soup Recipe
This easy ramen noodle soup recipe is gluten free and can be made with chicken, beef, shrimp, or even vegetarian. This healthier quick ramen noodle recipe is the best!
Ingredients
2 Blocks of Millet and Brown Rice Ramen Noodles (or enough of your favorite ramen for 2 people)
1 tablespoon Coconut Oil
¼ cup Peas
½ Diced Yellow Onion
1 Garlic Clove (minced)
½ cup Broth
¼ cup Tamari soy sauce
1 tablespoon Gluten Free Rice Vinegar
½ teaspoon Ground Ginger
½ teaspoon Umami Seasoning
Optional Toppings: Avocado, Boiled Egg, Chicken, Beef, Shrimp... etc.
Instructions
In a large pot, boil water and cook ramen noodles as instructed on the packaging.
While the noodles cook, in a sauce pan, saute your onions, peas, and garlic in 1 tablespoon coconut oil.
Once the onions seem translucent and the veggies are cooked and softening, add your broth, tamari, and vinegar and heat over medium/high heat until simmering.
Turn heat down and add your spices cooking for a few minutes to really get those flavors combined.
Once done, ladle the broth mixture over the noodles in individual bowls. Keep whatever you don't eat separate so that the noodles don't become soggy and gross.
Add your choice of yummy toppings and enjoy!
Nutrition Information:
Yield:

2
Serving Size:

1
Amount Per Serving:
Calories:

1014
Total Fat:

48g
Saturated Fat:

17g
Trans Fat:

0g
Unsaturated Fat:

26g
Cholesterol:

177mg
Sodium:

3857mg
Carbohydrates:

99g
Fiber:

13g
Sugar:

6g
Protein:

47g
Nutritional information is not always 100% accurate.