This Spinach Basil Pesto Pasta is so creamy and delicious made with fresh flavors of spinach, basil, pine nuts, garlic, fresh tomato, olive oil, and a dry-aged cheese like Parmesan, Parmigiano-Reggiano, or Pecorino.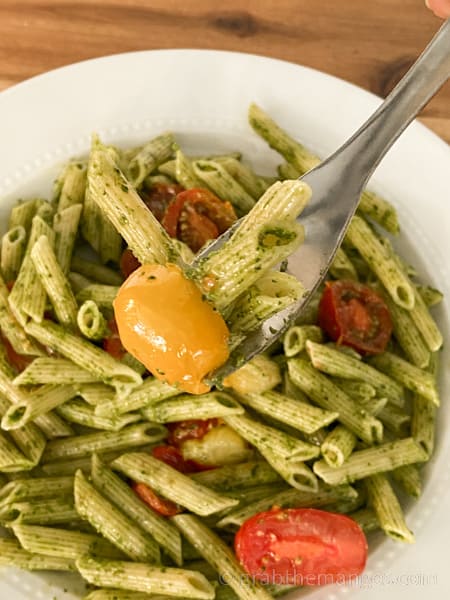 why we added spinach to pesto
The traditional version of a good pesto sauce for your pasta is made with Basil. Some fresh basil, olive oil, toasted nuts, and spices make a great pesto- we actually have that recipe here on the blog (Basil Pesto). But I love the depth the spinach gives to this pesto it really adds another layer of flavor. And you only need a little basil so it's also a lot more affordable making it this way.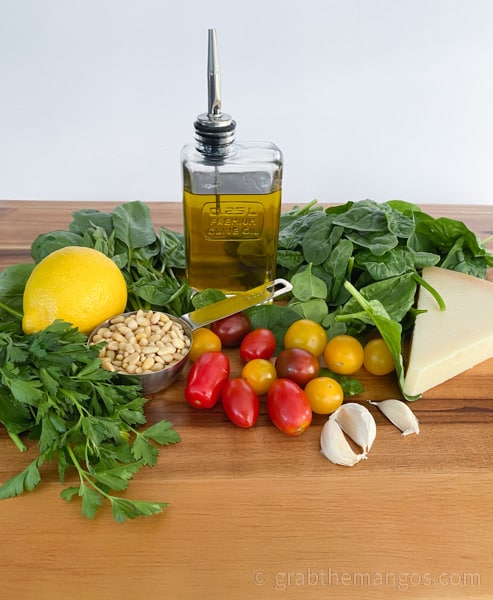 Ingredients in Spinach basil pesto
Spinach
Basil
Parsley
Lemon Juice
Parmesan
Toasted Nuts (almond or pine nuts)
Salt, Pepper
Garlic
The fresh sharp bite of a little lemon juice with the salty amazing Parmesan is what really brings this recipe to the top of the list of easy great recipes. Pop all of your ingredients in a food processor and let the magic happen!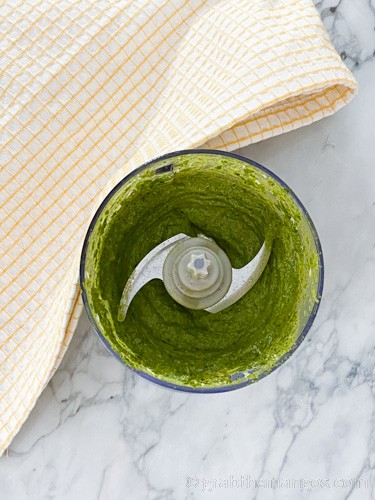 Health Benefits of Spinach
There are so many health benefits to eating spinach and this recipe is perfect for getting it onto the plate while still tasting great because it leaves the spinach raw.
Some of the best health benefits to eating up some spinach recipes like this one are:
Heart Healthy- spinach contains high levels of omega-3 fatty acids and folates.
Strengthens your bones- spinach is a rich source of Vitamin K which helps promote stabilization and strength in the bones.
Good for Eye sight and Immune system- spinach contains beta carotene, zeaxanthin, lutein and chlorophyll, all great for improving eye sight and your immune system.
Helps skin- spinach has a lot of vitamin A which helps to repel viruses and bacteria especially on the skin and mucous membranes.
Energizing- spinach contains magnesium which helps you to generate energy.
Needless to say, spinach is called a super food for a reason! This recipe just makes it even tastier.
Hope you enjoy it as much as we do!
This post may contain affiliate links. If you click and buy, I may make a commission at no cost to you. See my policy for more information.
Tag us on Instagram @grabthemangos and give us a rating and review right here in the comments! And don't forget to pin and save it for next time!
More Sweet recipes for you to love
Shop the Post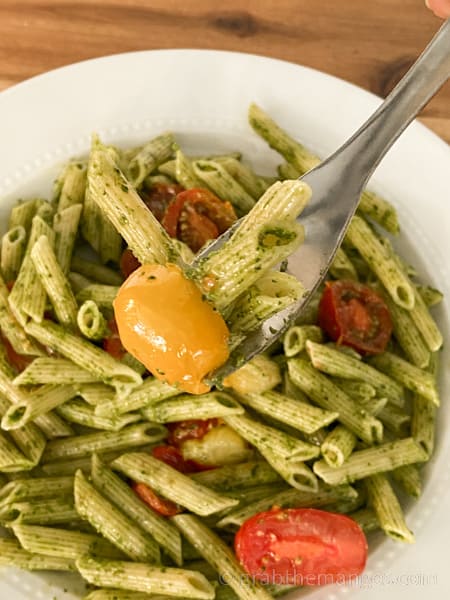 Easy Spinach Basil Pesto
This delicious spinach basil pesto pasta is so easy to make! Just pop the ingredients in the blender and top your pasta with this scrumptious sauce. Spinach, lemon, and parmesan, yum!
Ingredients
2 cups Spinach
½ cup Basil (.5 oz container)
¼ cup Parsley
2-3 Garlic Cloves (peeled)
¼ cup whole Pine Nuts/Almonds
½ Lemon Juiced
½ cup Parmesan
¼ cup Olive Oil (use more or less for desired consistency
1 12oz container of cherry tomatoes
Salt to taste
1 lb your favorite pasta, cooked
Instructions
PASTA
Cook pasta in a large pot with some salted water, according to the package. Drain and set aside.
SAUCE
In a food processor, add olive oil, spinach, basil, parsley, pine nuts, garlic, cheese, and lemon juice with salt.
Pulse several times to begin to blend. Scrape sides of the blender and pulse a few more times. You may need to scrape the sides again and pulse a few more times until all ingredients are well blended.
Heat a tablespoon of olive oil in a pan over medium heat. Add tomatoes and Saute, shaking pan frequently, until tomatoes soften and skins just begin to wrinkle, about 2 minutes.
When tomatoes are done cooking add cooked pasta and pesto and toss together.
Notes
Our favorite pasta with this pesto is penne or bow tie
Nutrition Information:
Yield:

4
Serving Size:

1
Amount Per Serving:
Calories:

556
Total Fat:

38g
Saturated Fat:

5g
Trans Fat:

0g
Unsaturated Fat:

31g
Cholesterol:

0mg
Sodium:

219mg
Carbohydrates:

45g
Fiber:

7g
Sugar:

2g
Protein:

14g
Nutritional information is not always 100% accurate.