This is one of our favorite comfort foods- garlic bread baked gnocchi. Even the name just screams "comfort food goodness." I actually promised this recipe at the end of my post for the best homemade gnocchi and then life happened and I totally didn't post it. I was much more scattered with my posting schedule a year ago. BUT here it is and it is dreamy good. Super easy to make and even though I wouldn't deem this baked gnocchi recipe as "healthy" in the traditional sense, in this time of life it's exactly the recipe we need sometimes. Giving yourself comfort in trying times is my kind of healthy.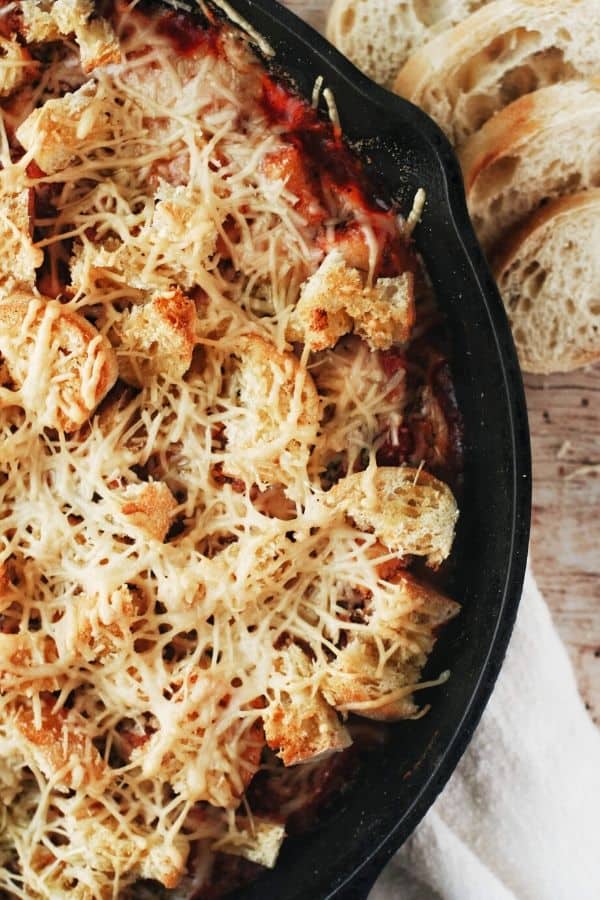 Best baked gnocchi recipe
This is the best way to make a really hearty comforting gnocchi bake (in our house at least). Our go to, easy dinner is always pasta and this one has ALL those good things.
We've got shredded Parmesan cheese, bits of baguette, garlic, tomato and herbs, and of course fresh gnocchi (store bought works great as well).
So let's get down to it.
Can you cook gnocchi without boiling?
Simple answer, yes you can. In this recipe, though, I have found that either pan frying it or boiling as usual before baking in the sauce works better and ensures you don't get raw gnocchi. YUCK. No one wants dough blobs in their meal.
The reason you do want to boil or pan fry first is the garlic bread bites on the top. You only cook this for about 15 minutes to get the flavors coming together and that bread crispy and golden on top. This isn't quite long enough to make sure that all the gnocchi is baked through, but any longer and your bread will burn.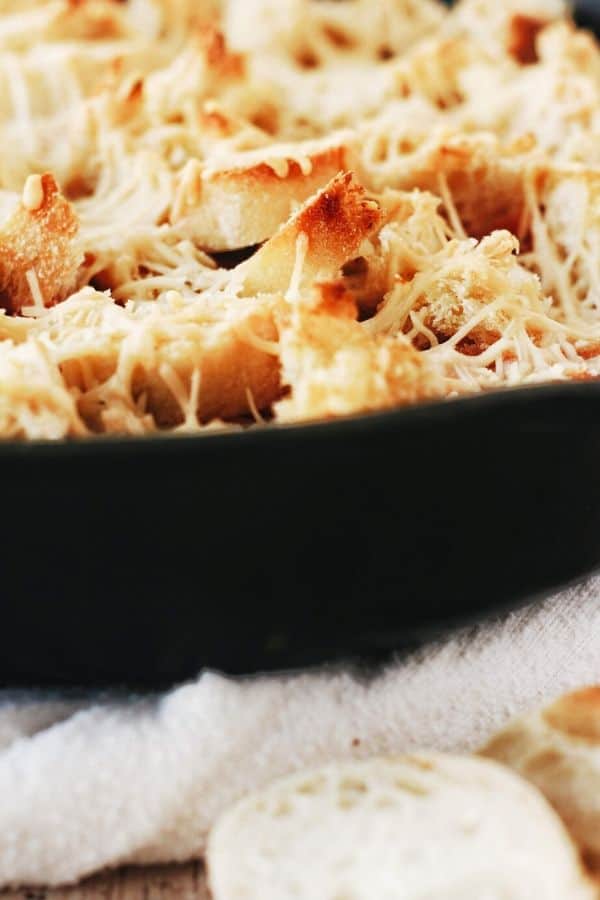 The other reason, pan frying your gnocchi adds so much flavor and texture. It's a win every time.
So how do you pan fry gnocchi? The key to doing this right is simply doing it in batches. You do not want to over crowd the pan. The gnocchi needs room to breathe so that it doesn't start mushing and melting into one another.
I usually make this easy by frying it up in the skillet that I will also bake it in. Fry up just enough for the pan to be filled but breathable. If you want more than that, then you can fry in batches, setting aside each cooked batch in a bowl until you're ready to add them back in to bake with the sauce.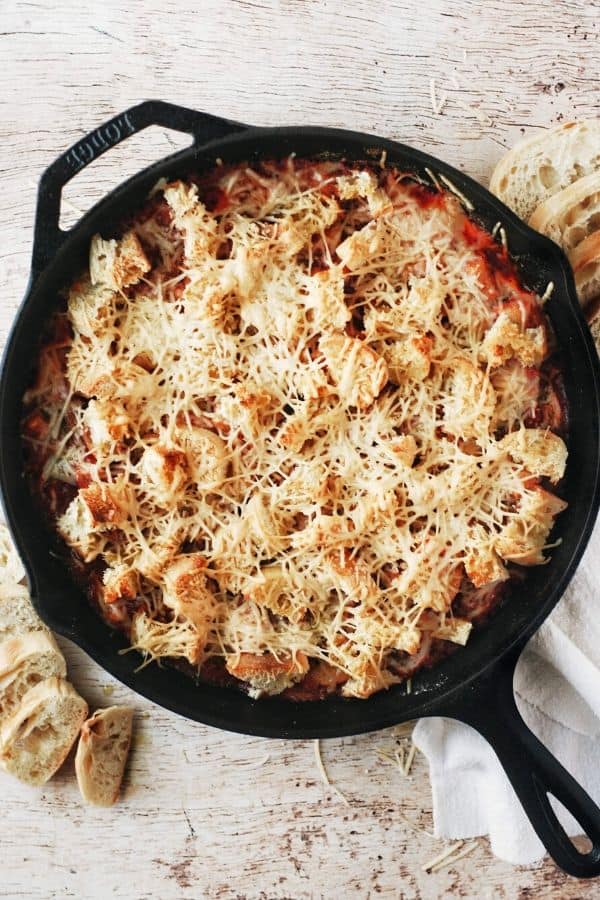 Can you overcook gnocchi?
If you decide to boil instead of pan fry your gnocchi, make sure you just boil until they float to the top (only about 2-3 minutes). Over cooking them will make them turn to mush.
If you are doing the trusty and flavorful pan frying method, heat about a tablespoon or 2 of olive oil in a pan over medium heat. Add the gnocchi in (not over crowding the pan), and cook for about 10 minutes, turning a few times to get each side golden and seared.
Garlic Bread Baked Gnocchi
Once you have either boiled or pan fried it your gnocchi, you can begin to throw together your recipe.
In a skillet or baking pan (we always use our cast iron skillet), place your cooked gnocchi. Mix together crushed tomatoes, spices, and fresh basil and pour in with the gnocchi. Give it a gentle toss to incorporate it all together.
Break up bits of baguette (french bread, sour dough- tastes amazing) and place on top of your gnocchi and sauce. The bread should be bite sized.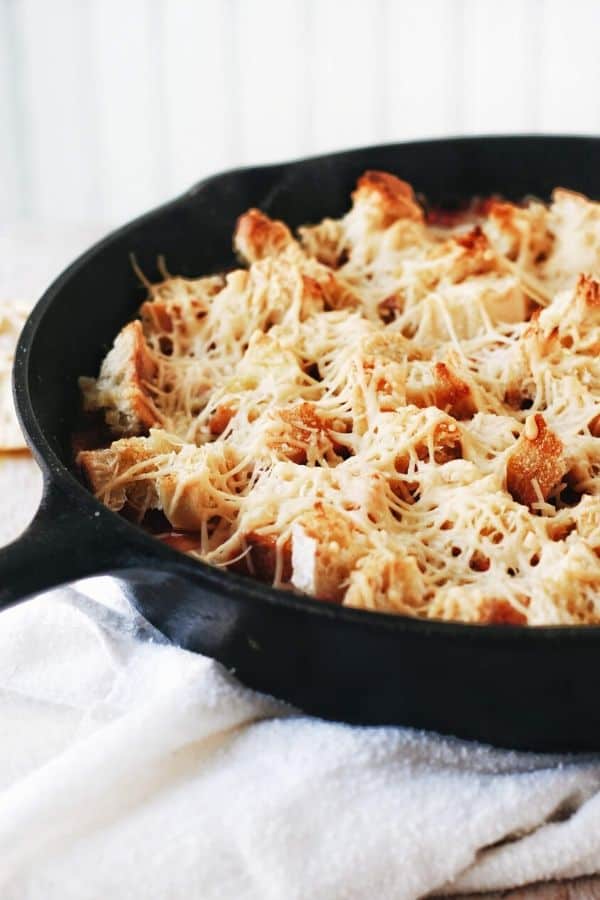 Drizzle some olive oil lightly over the top (1-2 tablespoons) and sprinkle with your garlic powder. Finish it off with shredded Parmesan (powdered works fine too).
Pop this in the oven and bake at 375 for 15 minutes or until the top is golden and melted. Serve right away.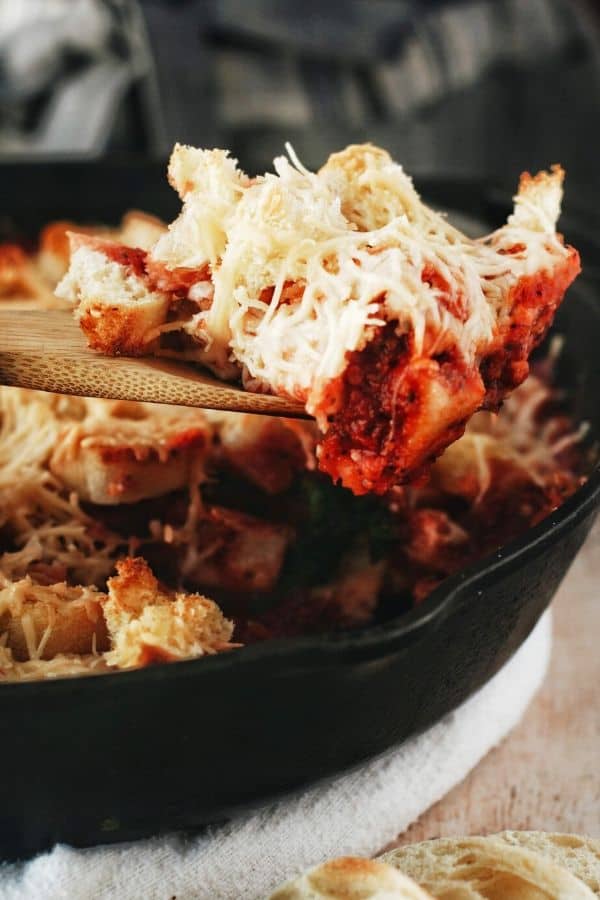 Hope you enjoy!
Tag us on Instagram @grabthemangos and give us a rating and review right here in the comments! And don't forget to pin and save it for next time!
More Sweet recipes for you to love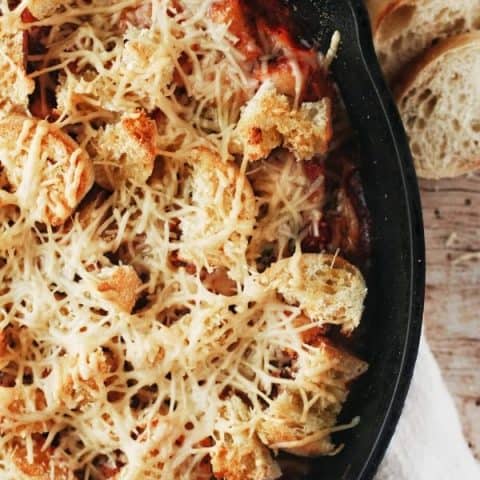 Garlic Bread Baked Gnocchi
(fresh made gnocchi time):
15 minutes
This super easy baked gnocchi is delicious! Topped with garlic bread bites, this recipe is ultimate comfort food for dinner.
Ingredients
Fresh made Gnocchi (our recipe is linked above) - or 1 bag of store bought gnocchi
1 28oz can Crushed Tomatoes
¼ cup Chopped Fresh Basil
2 Garlic Cloves (minced)
Salt + Pepper to taste
~2 cups bite sized Baguette Bread
2 tablespoon Olive Oil (plus more for drizzling over the bread)
1 tablespoon Garlic Powder
1 cup Shredded Parmesan Cheese
Instructions
Make your gnocchi using our best gnocchi recipe OR use store bought gnocchi.
Pre-heat your oven to 375.
Heat 2 tablespoon of olive oil in a pan over medium heat.
Add in some of the gnocchi to pan fry, make sure not to overcrowd the pan and turning several times to get all the sides golden.
Do this in batches until all done (more tips on pan frying gnocchi above).
Once you are done, place the gnocchi in a pan and mix together your crushed tomatoes, garlic, basil, and salt and pepper, then pour over the gnocchi.
Toss in together gently.
Rip up baguette pieces in to bite sized chunks and spread over the top of the gnocchi.
Drizzle a little more olive oil over the top (1-2 Tbsp) and then sprinkle with the garlic powder evenly.
Top it with the shredded parmesan cheese.
Bake at 375 for 15 minutes or until the top is golden. Enjoy!
Nutrition Information:
Yield:

6
Serving Size:

1
Amount Per Serving:
Calories:

250
Total Fat:

9g
Saturated Fat:

3g
Trans Fat:

0g
Unsaturated Fat:

6g
Cholesterol:

22mg
Sodium:

619mg
Carbohydrates:

33g
Fiber:

4g
Sugar:

7g
Protein:

11g
Nutritional information is not always 100% accurate.