This is our family's all time favorite sour cream quiche with sweet potato crust recipe. It is so simple and easy to make with ingredients you normally have on hand anyways. The flavors are melt in your mouth delicious!
A sweet potato crust:
Starting with the sweet potato crust (umm yes please), shred about 3-4 sweet potatoes and cook in a pan with olive oil and some salt and pepper until almost mushy. This may take about 10-12 minutes. Once they are ready to go, press them into bottom and sides of a pie dish using a spoon. Bake this at 400 for about 15 minutes (longer if you want it even more crisp).
This sweet potato crust is so savory with a very subtle sweetness. Honestly, it's just so much simpler and easier than a pastry dough pie crust that I tend to use this for a lot of my savory pie crusts. If you have one of the power shredders that are out there these days it only makes this job easier and quicker. I use my Cuisinart Slicer/Spiralizer/Shredder and it is honestly one of my favorite kitchen tools ever! This thing can help you make so many dishes so quickly. It shreds up these sweet potatoes (which can be a pain because they are tough) and does it in seconds. Highly recommend!
Sour Cream Quiche:
While the pie crust is baking, start cooking up your choice of vegetables and/or meat. This is what makes this meal a go to for us. You can throw in whatever you like that you have on hand and it always turns out! I would cut everything to be bite size before tossing it in though. While they cook all together in the pan, whisk together the eggs and add the sour cream to make an amazingly cream and fluffy filling.
Once the crust is done, place the veggie and meat mixture in the bottom of the crust and pour the egg mixture over it evenly. Bake at 375 for 35-45 minutes until you don't see a jiggle in the center when it comes out- place tin foil over the top if you are worried about burning any crust that might be peaking out. Enjoy the cravings for this sour cream quiche with sweet potato crust when you've finished it all up!
Dairy-Free Option:
Ok, so my husband is actually lactose intolerant but he's one of those people that just doesn't care and will eat all the ice cream loaded with whipped cream if it's in front of him and then just suffer the consequences later and say it was all worth it. But recently we realized both kids seem to have a pretty bad intolerance to dairy as well and since they are little and I don't want them hurting or ruining their health, I made an executive decision (I mean I am the cook around here anyways lol) to just set us all on the dairy-free path. So the only dairy I still get when I'm food shopping is the Kerry Gold grass fed butter because a little bit of that still has good health benefits and doesn't hurt their tummies.
Because of this development, I had to come up with the dairy free version of this recipe which we love just as much! If you are in this boat with us, here you go:
Replace the sour cream with one can of coconut cream. Use only the thick creamy part, not the liquid part in the can (you can put that away for some smoothies). Mix it all together well. Don't worry if it doesn't combine perfectly and there are small bits of coconut cream in the eggs still- it all bakes together just fine. And that's it. You can't even taste the coconut flavor at all and it is still creamy and delicious! The original recipe I came up with before the switch over to dairy free but the pictures in this recipe are actually the dairy free quiche. If that doesn't convince you, I don't know what will! Enjoy 🙂
Tag us on Instagram @grabthemangos and give us a rating and review right here in the comments! And don't forget to pin and save it for next time!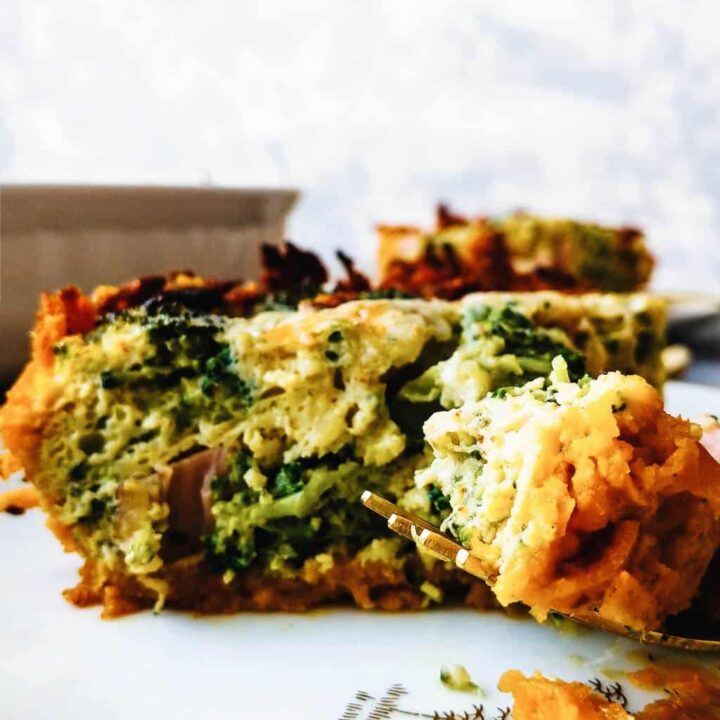 Sour Cream Quiche with Sweet Potato Crust
Total Time:
1 hour
15 minutes
This is the quiche of your dreams! So easy and simple. A savory sweet crust with a creamy and fluffy filling that melts in your mouth. Dairy free option too!
Ingredients
Sweet Potato Crust
3-4 Sweet Potatoes
2 tablespoon Olive Oil
1 teaspoon Minced Garlic
1 teaspoon Salt
1 teaspoon Black Pepper
Sour Cream Quiche
6 large Eggs
½ cup Sour Cream, *Dairy- Free Option*
½ cup Diced Ham or Bacon
½ cup Preferred Veggies , onions, broccoli, peppers... etc.
1 teaspoon Garlic Powder
1 teaspoon Paprika
Salt and Pepper , to taste
Instructions
Sweet Potato Crust
Pre-heat oven to 400.
Shred the sweet potatoes and cook on medium heat in the olive oil with the garlic, salt, and pepper until almost completely soft.
Press the cooked sweet potatoes into a pie pan using a spoon until the pie dish is covered in this crust.
Bake the sweet potato crust for 15min to get it slightly crispy and set.
Sour Cream Quiche
Pre-heat oven to 375.
Cook vegetables of choice (we like onions, broccoli, peppers...) with the ham or bacon in a pan on medium-high heat until cooked.
Place the veggie and meat combination in the sweet potato pie crust.
In a large bowl beat the eggs. Add the sour cream and seasonings and beat well.
Pour the egg and sour cream mixture over the veggies and meat in the pie crust.
Bake for 35-45 minutes until cooked through and no longer runny in the center.
Let rest for 5 minutes. Serve hot and enjoy!
Notes
*Dairy Free Option: 1 can of coconut cream replaces the sour cream.  Only use the thick creamy part of the can.  Save the liquid for another recipe or smoothie!