I'm excited to share this delicious dairy-free beef stroganoff recipe with you. It's perfect for a cozy winter dinner. The beef is cooked in a creamy dairy-free sauce and can be served over noodles or can easily be made gluten-free. You'll love it!
Jump to Recipe
What is the origin of beef stroganoff and is it German or Russian
Beef stroganoff is a Russian dish, but German cuisine has a similar meat sauce recipe called 'Sauerbraten'. In this version, the beef is marinated in vinegar and spices before being slow-cooked with onions and raisins.

It was originally created back in the 19th century in Russia by Count Alexander Grigorievich Stroganoff (or his chef there is some debate over that) it then made its way to France and eventually made its way across Europe and to America. Today Beef Stroganoff is very popular both in and outside Russia. The American way of making beef stroganoff is different than Russian stroganoff, the biggest difference being the use of tomato paste or sauce.
What is stroganoff sauce made of
A stroganoff sauce usually consists of sour cream, mustard, and chopped fresh herbs. This version replaces the sour cream and heavy cream with coconut milk and beef stock to keep it dairy-free, then added fresh parsley for extra flavor. It's the perfectly creamy sauce to serve over meat, noodles, rice, or potatoes!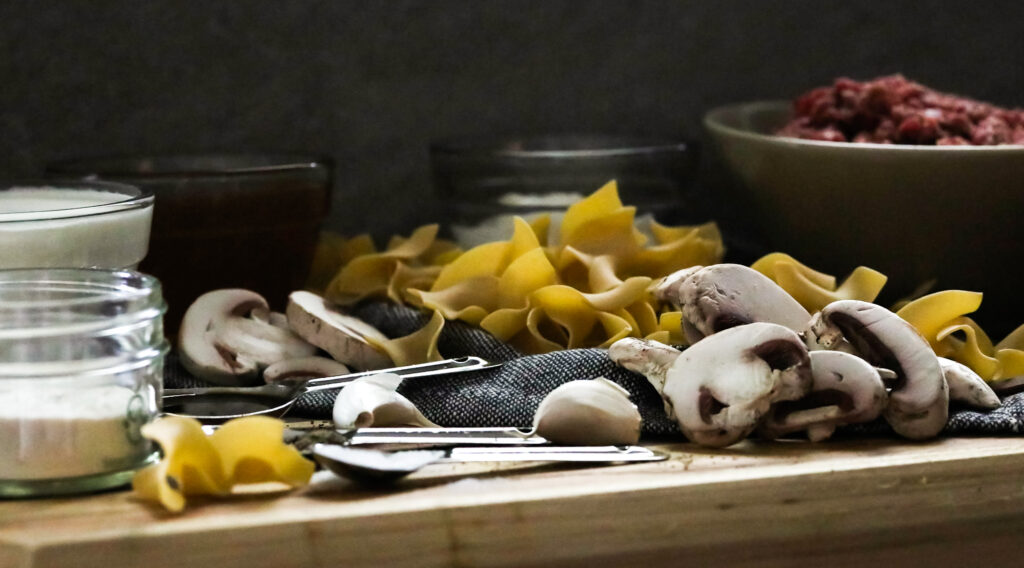 Ingredients for dairy-free ground beef stroganoff
Olive Oil
Ground Beef- I prefer to use ground beef in this recipe. However, you could instead opt for ground turkey or ground chicken.
Onion Diced - Vidalia onion or yellow onion... a white onion will also get the job done.
Mushrooms – You can use the traditional button white mushrooms like I have or a medley of baby bella (crimini) mushrooms, shiitake, oyster mushrooms, or any others you love.
Flour- You can use all-purpose flour or you can substitute it for gluten free one for one flour, you may have to add a little more to thicken it up.
Garlic- it's always best to use fresh garlic, but in a pinch, you can use garlic paste or a jar of pre-minced garlic.
Beef Broth- To add the best flavor in your sauce.
Coconut Milk- This is what gives the sauce the rich, creamy consistency that's so delectable. Make sure to use full fat so the sauce thickens well.
Dairy-Free Sour Cream- Whatver your favorite dairy-free sour cream happens to be mine is Dollop Lama Cashew Topping
Worcestershire Sauce
Salt
Pepper
Egg Noodles - You can use wide egg noodles or if you need it to be gluten free you can use gluten free noodles or instead do mash potatoes or rice.
How to make dairy-free beef stroganoff sauce
When it comes to cooking, the best thing is being able to measure and slice all your ingredients before starting. This way you don't have any last-minute runs looking for ingredients, measuring, and chopping. That's how we (I mean me) burn dinner! So slice your mushrooms, dice the onion, and mince the garlic.
First, start off by boiling your pasta according to package directions until al dente.
Cut up your onion, mushrooms, and In a large preheated skillet over medium-high heat, add olive oil and then ground beef (or whatever meat you prefer) and break it up into tiny pieces. Heat until it beef is browned and almost cooked through. You may need to drain off any excess fat from the bottom of your pan before adding other ingredients but leave a little so everything else you add doesn't stick.
Add pressed garlic and onions. Sauté until the onions are translucent. Add the sliced mushrooms and sauté for another 5 minutes. Add flour and stir until fully mixed in, be sure not to let any lumps form.
Add the beef broth, coconut milk, Worcestershire sauce, salt, and black pepper, and bring to a simmer. Turn the heat to low and simmer for an additional 5 minutes. Remove from heat and add in the dairy-free sour cream. Stir again to combine all of your ingredients together.
Drain the pasta with and in a calendar and serve your ground beef stroganoff sauce over it.
What sides go with beef stroganoff
There is no one way to serve Stroganoff because it's one of those dishes that will go with so many side dishes. You can make it a little lighter or more comforting by choosing different side dishes to try with it.
Egg Noodles
Mashed Potatoes
Mashed Cauliflower
Quinoa
Riced Cauliflower
Rice
Can you freeze ground beef stroganoff
Yes, turn this stroganoff into a freezer meal by following directions all the way up to the sour cream but Do NOT add sour cream. Let it cool completely and put it into an air-tight freezer-safe container or a freezer bag. Freezing for up to 3 months. When you are ready to cook take it out of the freezer the night before and place it in the fridge to defrost, next cook in a pan over medium heat once it is heated through remove from the heat and add the dairy-free sour cream. Stir and enjoy!
What is the best way to store and reheat stroganoff?
If you have leftover beef stroganoff that you do not want to freeze or have already added the dairy free sour cream to then you want to store it in an air-tight container in the refrigerator for 2-3 days. The best way to reheat stroganoff is going to be on the stovetop because of the sour cream you will have less of a chance of the sauce separating this way. Heat in a pan over medium heat this will take about 15-20 minutes
More Sweet recipes for you to love
Dairy-Free Ground Beef Stroganoff
I'm excited to share this delicious dairy-free beef stroganoff recipe with you. It's perfect for a cozy winter dinner. The beef is cooked in a creamy sauce and served over noodles. You'll love it!
Ingredients
1

tablespoon

olive oil

1

lb

lean ground beef

you can also use ground turkey or chicken

1

½

medium vidalia onion, diced

1

lb

Mushrooms, sliced

2

tablespoon

flour

you can sub gluten free flour

2

cloves

garlic, minced

1

cup

beef broth

1

cup

coconut milk

You can also sub for your favorite dairy free milk

⅓

cup

dairy-free sour cream

1

teaspoon

worcestershire sauce

½

tsp

salt

½

teaspoon

ground pepper

12

oz

package of wide egg noodles

you can also use gluten-free noodles, mashed potatoes, rice, or quinoa
Instructions
Prepare your ingredients before starting to cook.

Preheat a large cooking pan over medium-high heat and add oil. Season ground beef with some salt and pepper cook over medium-high heat until brown and almost done. Drain off exess grease.

Add pressed garlic and onions.  Sauté until the onionsare translucent. Add the sliced mushrooms and sauté for another 5 minutes. Addflour and stir until fully mixed in, be sure not to let any lumps form.

Add the beef broth, coconut milk, worcestershire sauce, saltand black pepper and bring to a simmer.  Turn the heat to low and simmerfor an additional 5 minutes.

Remove from heat and add in the dairy-free sourcream. Stir again to combine all of your ingredients together. 

Serve over pasta, rice, mashed pototoes, or any other side you'd like