Everyone and their mother, sister, brother... etc. is making bread at home these days. Well if you're looking for a super easy, no knead, no yeast almond flour bread recipe - look no further. This recipe is so good with some butter and honey or jam. That fresh, subtly sweet, extra soft and chewy bread flavor right out of the oven is perfect in this recipe. No work other than mixing it all together and baking it. This almond flour bread is amazing for a quick rise bread that is gluten free and perfect for spreading and dipping. It's just a bonus that it doesn't need any regular flour, because who can find any anyways these days. Even if you are not gluten free, you'll love this easy and scrumptious bread.
How does almond flour affect baking?
Almond flour bread recipes can be tricky. The almond flour adds a subtle sweetness as well as extra moisture and richness. This can be great for soft things like rolls, but for things like bread where you want a good crust and more chewy texture, you need to add a few things.
Extra eggs- holds things together better when you are dealing with almond flour and coconut flour in baking
Coconut flour- helps to absorb excess moisture so things don't get soggy.
Rising agents.
Yeast or No Yeast
If you do want to use yeast in a recipe with almond flour, you will normally need to use more than the regular amount and give it extra time to rise.
This almond flour bread recipe doesn't use yeast. Instead we went the easier route with some buttermilk (can be made dairy free) and baking soda together, as well as baking powder. Each one gives a rise and helps this bread taste chewy and fluffy instead of brick-like.
While this bread probably isn't what you would call sandwich bread because of it's shape- it's amazing for a quick and easy fresh out of the oven bread. Spread some butter and taste the goodness.
Best Almond Flour bread Recipe
This almond flour bread can be made in minutes and baked in a dutch oven, skillet, or bread pan. Super versatile and delicious.
All you need are things you may already have in your pantry/fridge:
Almond Flour
Coconut Flour
Eggs
Milk of Choice (almond, whole milk, oat milk... etc)
Apple Cider Vinegar
Baking Powder
Baking Soda
Maple Syrup
Salt
Nothing super crazy in this recipe so here are the key things to remember:
Mix the dry ingredients and the buttermilk mixture separately first. That buttermilk mixture will activate the baking soda right when it hits it. So you want to do that quickly and get it in the oven where you want most of the rise to happen.
Bake on parchment paper to make sure it doesn't stick.
Finally, make sure you let it rest for at least 10-15 minutes after baking so that it doesn't crumble. Almond flour can make things a little more fragile straight out of the oven- letting it rest stabilizes it for the best results.
How long will Almond Flour Bread keep?
Almond flour actually extends the shelf life of most baked goods. The fat in it retains moisture and keeps the bread from going stale a bit longer.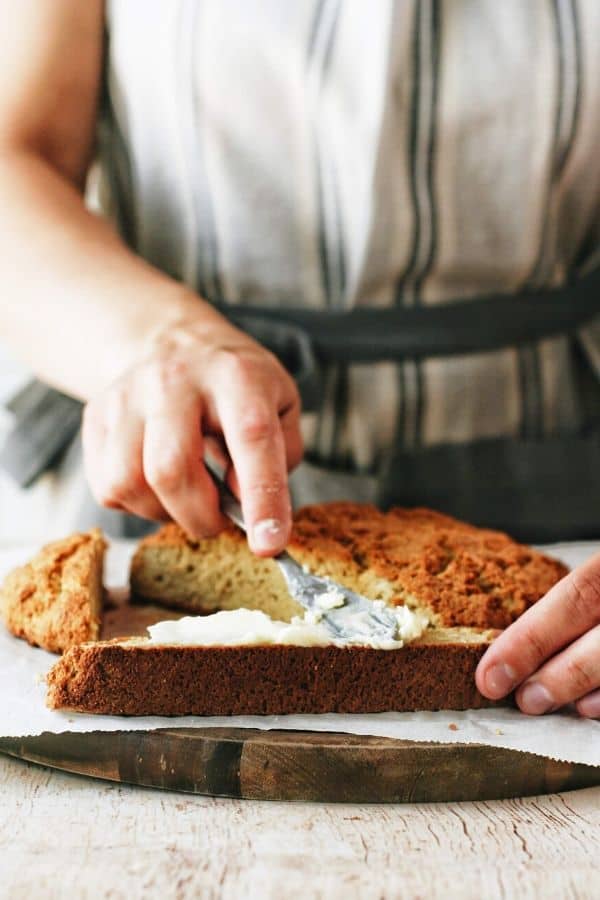 This bread should be kept in an air tight bag on the counter for about a week (after a week just keep an eye on it).
Hop you enjoy this super easy almond flour bread recipe as much as we do!
Tag us on Instagram @grabthemangos and give us a rating and review right here in the comments! And don't forget to pin and save it for next time!
More Sweet recipes for you to love
Easy Almond Flour Bread Recipe- No Yeast
This almond flour bread recipe has no yeast and is so easy to make. Subtly sweet and delicious with some butter fresh out of the oven. Keto friendly, gluten free, healthy, and simple.
Ingredients
1 ½ cup Almond Flour
¼ cup Coconut Flour
3 Eggs
1 teaspoon Baking Soda
½ teaspoon Baking Powder
1 tablespoon Apple Cider Vinegar
3 tablespoon Milk
2 tablespoon Maple Syrup
Pinch of Salt
Instructions
Preheat the oven to 350.
In a bowl mix together the almond flour, coconut flour, baking soda, and baking powder.
Mix your milk and apple cider vinegar in separate container and set aside.
Add your eggs into your almond flour mixture and then add your milk and vinegar mixture. Mix until a dough/batter forms.
Pour the dough into a skillet or bread pan lined with parchment paper. Make sure to shape the dough into a nice even shape or even it out if it's in a bread pan.
Bake at 350 for 35-40 minutes until golden brown on top.
Let it settle and cool for 10-15 minutes before cutting. Enjoy!