This Ultimate Halloween Trail Mix is so easy and makes the perfect treat for Halloween parties and Halloween-themed events. I make this Halloween snack mix every year with my kids for their classroom Halloween parties and it's always a hit! It only takes a handful of ingredients and under 5 minutes and your kids will love helping you make it! Parties can be so tedious and stressful to plan, so why not let this Halloween trail mix do all the work for you?
Jump to Recipe
This post is more to give you an idea of ingredients than it is a recipe so you can if you are missing something or don't like something just change it out with something else. Make this recipe your own by adding your family's favorite Halloween candy, add more of what you like, take out what you don't. It will still taste amazing!
Ingredients For Halloween Trail Mix
The ingredients are simple and can be customizable with all your favorite Halloween candy and snacks. For all the measurements, see the recipe card below.
Chex Mix
Reese's Pieces
Mini Reese's Peanut Butter Cups
White chocolate covered pretzel
Chocolate covered pretzels
White chocolate chips
Caramel Popcorn
Brach's Autumn Mix - You could use a bag of candy corn and candy pumpkins if you can't find the autumn mix.
How To Make The Ultimate Halloween Trail Mix
This is so simple to make you just combine all the ingredients in a large bowl and mix it together with a big spoon or your hands. When you are done store it in a ziplock bag, jar, or an air-tight container.
Other Fun Ingtedients we like:
Marshmallows
M&M's
Regluar or Cheddar Popcorn
Nuts- Any Kind But We Like Peanuts or Cashews
Tiny Twists Pretzels
Raisinets or plain raisins
Royal Icing Eyeballs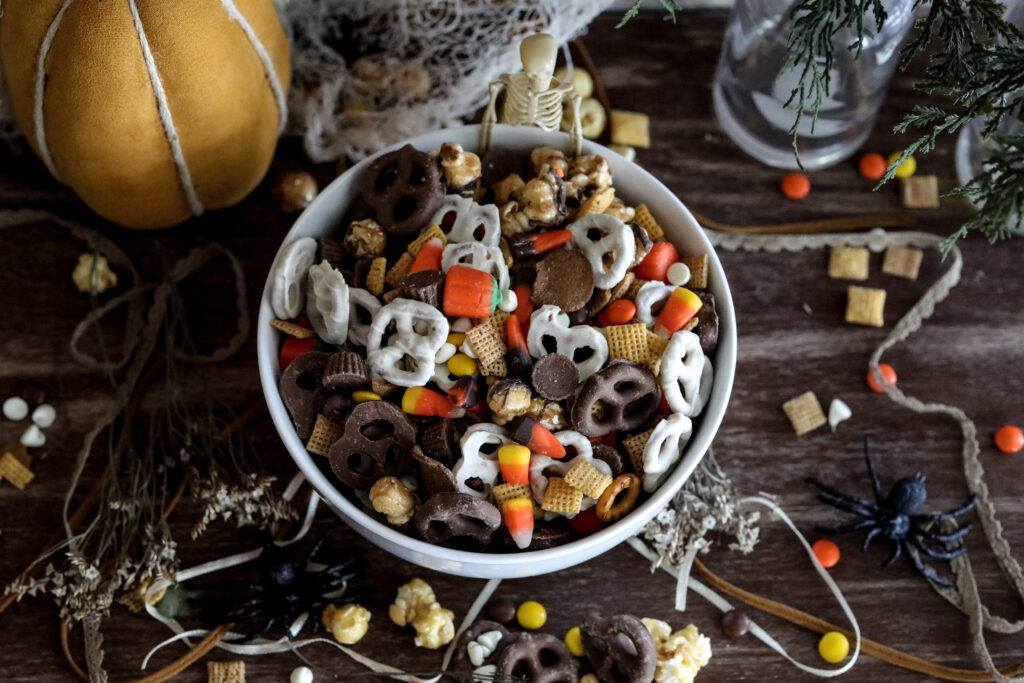 Storing The Ultimate Halloween Trail Mix
Keeping trail mix at room temperature in a tightly sealed container keeps it fresh longer. I like to keep it in a mason jar, plastic ziptop bags, or Tupperware containers with a tightly sealed lid. It will keep for at least 2 weeks and sometimes longer if sealed tightly.
More Halloween Recipes:
Here are some more easy Halloween treats you can make for your upcoming Halloween Parties!
GLUTEN-FREE HALLOWEEN CANDY CORN GHOST CUPCAKES -These Gluten-Free Halloween Candy Corn Ghost Cupcakes are so cute and easy to make!
NO-BAKE PUMPKIN CHEESECAKE MUMMY TRUFFLES (GLUTEN-FREE) - These easy gluten-free no-bake white chocolate pumpkin cheesecake truffle mummies are the perfect treat to make with your little ghosts & goblins.
HALLOWEEN MUMMY HOT DOGS - These Halloween Mummy Dogs make the perfect fun addition for your Halloween party or dinner. We make this mummy hot dog recipe every year as it is an easy fun dinner for my kids!
The Ultimate Halloween Trail Mix
Learn how to make the perfect Halloween Treat with this quick and easy recipe!
Ingredients
1

Cup

Chex Mix

9.9

oz

Bag Reeses Peices

7.6

oz

Bag Reeses Minis Unwrapped

7.5

oz

Bag White Cholate Covered Pretzels

7.5

oz

Bag Chocolate Covered Pretzels

1

Cup

White Chocolate Chips

2

Cups

Caramel Popcorn

1

bag

Autum Mix Candy (Candy Corns and Pumpkins)
Instructions
Add all ingredents in a bowl and mix with a spoon our your hands

Store in mason jars, ziplock bags, or tuberware with a tight fitting lid.
Tag us on Instagram @grabthemangos and give us a rating and review right here in the comments! And don't forget to pin and save it for next time!