If you are looking for a quick, super easy, and extra fancy sounding appetizer to throw into your meal plan, these bacon wrapped asparagus with balsamic glaze are it! Wrap em, glaze em, and bake em until they're delicious and crispy.
Bacon Wrapped Asparagus
Doesn't everything get better with bacon? I love asparagus by itself- ok that means roasted with butter and garlic of course- but with bacon, it's like it leveled up 10 levels.
Using fresh asparagus and a good brand of bacon is always a good idea. So if you are a crispy crispy kind of bacon lover, definitely use the normal sliced bacon. We love thick sliced bacon so that's what we use to make these. It works great, but it has a crispy outside and chewier inside so it definitely comes down to personal preference.
Make sure the asparagus has the butts cut off. By pressing the tip of the asparagus to the end of a piece of bacon, begin to wind the bacon around the asparagus until you get to the bottom. Really firmly pressing it into the asparagus will help it to stick.
Balsamic Glaze
Bacon wrapped asparagus on it's own is amazing right? Bacon wrapped anything is amazing. But adding this balsamic glaze is just so so over the top yummy. And let's be real, now it's fancy.
Balsamic glaze is so easy to make. Using balsamic vinegar and a sweetener, my favorite is some honey. Maple syrup or brown sugar work well too.
Mixing up the honey and balsamic vinegar you've got yourself a balsamic glaze. Balsamic vinegar, honestly, should be a staple in your pantry. You can make dressings, glazes, and so many dishes become amazing with the addition of some balsamic.
Brush the balsamic glaze right onto your bacon wrapped asparagus and pop them in the oven to get crispy and delicious. At 425, these spears of goodness will get cooked nicely. Cook them up for about 12 minutes and then flip them over for another 10-12 minutes. If you want them crispier after that, let them keep cooking for another couple of minutes.
If you want a little more balsamic flavor, feel free to just drizzle a little more on after they are done baking.
Storing and Re-heating
The whole thing with bacon is you want it to be crispy vs. soggy right? So these can definitely be made ahead of time, but don't scrimp on re-heating. Use the oven to reheat them at 425 for a few minutes again or even a toaster oven works super well. Good things are always better in the oven vs. the microwave.
Tag us on Instagram @grabthemangos and give us a rating and review right here in the comments! And don't forget to pin and save it for next time!
If you LOVE this recipe, try out our watermelon goat cheese salad or if you want some more savory recipes try out our zesty shrimp tacos!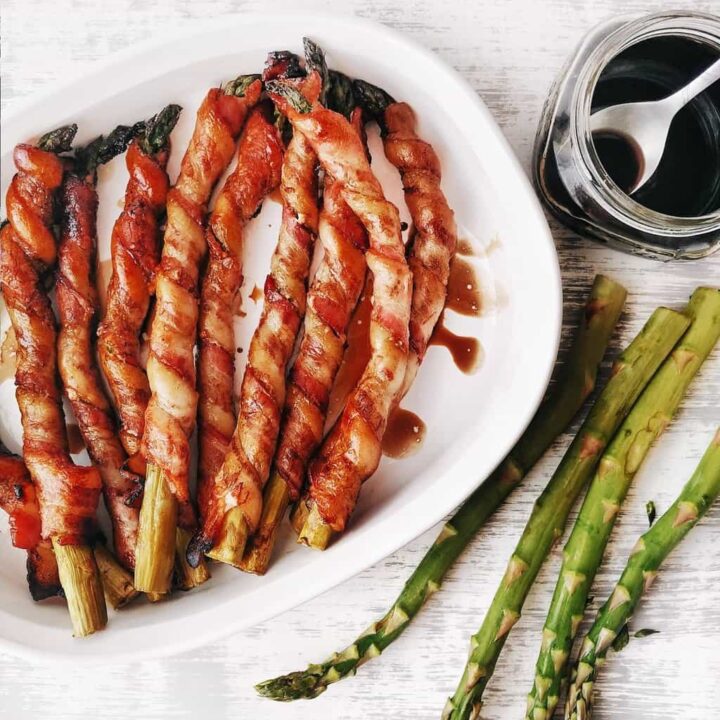 Bacon Wrapped Asparagus with Balsamic Glaze
This bacon wrapped asparagus made in the oven with a honey balsamic glaze is so crispy and delicious! Keto friendly, this recipe is a great side dish to make quickly and easily.
Ingredients
Asparagus
Bacon, thick cut or normal
¼ cup Balsamic Vinegar
3 tablespoon Honey
Instructions
Pre-heat the oven to 425.
Wrap one piece of bacon per on stalk of asparagus starting at the tip and winding all the way down to the bottom.
Place asparagus on a baking sheet on top of tin foil.
Combine the honey and balsamic vinegar together well in a small bowl or mason jar.
Brush the glaze on the bacon wrapped asparagus.
Place in the oven for 12 minutes, then flip and bake for another 10-12 minutes until it's as crispy as you want.
Optional: drizzle a little more balsamic glaze over the finished bacon wrapped asparagus if you want!
Nutrition Information:
Yield:

4
Serving Size:

3 spears
Amount Per Serving:
Calories:

80
Total Fat:

1g
Saturated Fat:

0g
Trans Fat:

0g
Unsaturated Fat:

1g
Cholesterol:

3mg
Sodium:

57mg
Carbohydrates:

17g
Fiber:

0g
Sugar:

16g
Protein:

2g
Nutritional information is not always 100% accurate.