This honestly is the most refreshing watermelon goat cheese salad with walnuts and sometimes fresh mint in the mix. Insert heart eyes and drooling here. Top this spring mix off with a homemade red wine vinaigrette and you've got a summer staple here.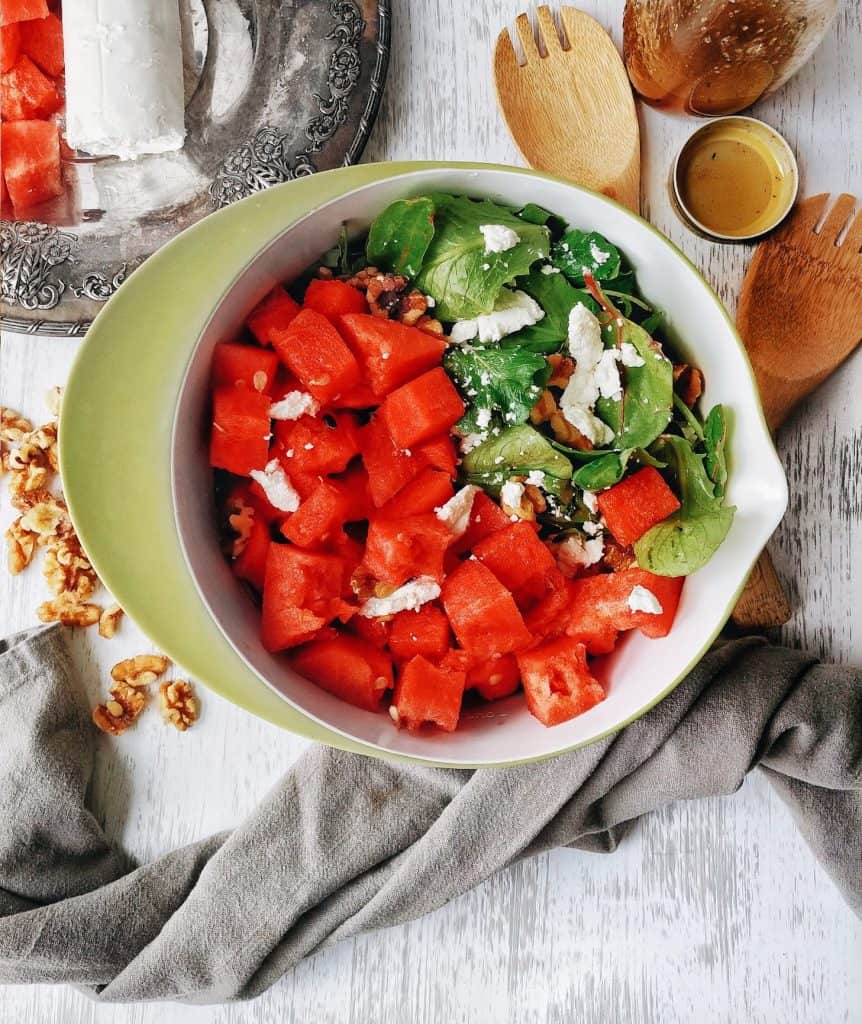 Refreshing Watermelon
I stumbled on the idea of watermelon salad last summer. All I had was watermelon in my fridge, and being ridiculously pregnant, I of course only wanted watermelon because what the heck else do you eat when you're 36 weeks preggo. This salad helped to switch things up and get some other ingredients in my belly. But everyone else wound up loving it as well.
Watermelon has so many good things going on. First of all, it is incredibly hydrating. Got a hang over in Mexico? Start drinking your watermelon juice people! It helps to lower blood pressure, is jam packed with vitamins that are especially heart healthy, and my favorite- watermelon is so good for your skin.
Watermelon Goat Cheese Salad
The goat cheese in this salad is what makes the dish in my opinion. The vinaigrette gives that robust flavor and acidity, the watermelon gives some sweetness of course, and the goat cheese brings it all together with a nice creamy texture as it gets tossed in. You can substitute Feta cheese in place of the goat cheese but you won't get the same creaminess in the mixture. Still tasty though!
Watermelon Goat Cheese Salad Ideas
A lot of watermelon salads have fresh chopped mint leaves thrown in as well. I love the addition of mint in a good summer salad like this one, but I have found that it's 50-50 when it comes to everyone else liking it. It can come on strong, so make sure if you add it in, do it a little at a time until you get the right amount for your taste buds.
Walnuts are my favorite and I always have the Costco sized bag of them in my pantry. They go PERFECTLY in this refreshing watermelon salad. The walnuts add a bit of a crunch which is really nice to have in a dish that is overall, pretty soft and watery (ya know- from watermelon).
Making and Storing
This salad is super easy to throw together. If you are making it for a party or get together, make it right beforehand. The watermelon tends to leak water which can make the salad watery if you leave it out at room temp for too long. If you pop it in the fridge, it helps a lot but make sure to toss lightly or add the watermelon in right before you are about to actually eat it.
This salad will last for about a week in the fridge but honestly we usually gobble it up the day we make it. So so yummy! Enjoy your summer with this amazing watermelon goat cheese salad!
If you love this salad recipe, try out some of our other apps like our Deep Dish Pizza Cups or if you want more salad ideas, try our Creamy Cilantro Sauce for everything! You won't be disappointed 😉
Be sure to tag us @cradlekitchen on Instagram if you made this recipe, or let us know in the comments! We love hearing from you 🙂
Refreshing Watermelon Goat Cheese Salad
This amazing watermelon salad recipe with goat cheese and walnuts is so refreshing. Add in mint, cucumber, basil, or whatever other ideas you have and top it off with our red wine vinaigrette for an amazing summer salad recipe!
Ingredients
Watermelon Goat Cheese Salad
1 Large Bowl Spring Mix Salad , Spinach, Arugula, Greens
2 cups Diced Watermelon
handful Walnuts, optional-reccomended
½ cup Crumbled Goat Cheese
Red Wine Vinaigrette
⅓ cup Olive Oil
1 tablespoon Honey
2 tablespoon Red Wine Vinegar
Salt and Pepper, to taste
1 teaspoon Onion Salt
Instructions
In a large salad bowl, toss the greens, goat cheese, walnuts, and watermelon.
In a mason jar shake up all the vinaigrette ingredients together until well combined.
Pour the red wine vinaigrette over the salad and toss. Enjoy 🙂