Potatoes are a staple in this house. Maybe because I'm Irish? Whatever the reason, we love crispy roasted potatoes with lots of seasoning. These garlicky roast potatoes with feta cheese are the easiest thing in the world to make, go with almost every main meal, and are pretty healthy. Normally the kids will pull out their favorite dips (ketchup, honey mustard, ranch...etc) and go to town with roasted potatoes. These, though, taste amazing to everyone just right out of the oven. That feta cheese ads a salty, creamy texture. The garlic salt and parsley add amazing flavor. And of course just enough extra virgin olive oil makes them crisp and perfect.
Crispy Roast Potatoes
Potatoes are, in my opinion, the most versatile vegetable on the planet. They make a great side dish, they make vodka, they make french fries, they are good for breakfast, lunch, and dinner, and sweet potatoes are the dessert version. They taste good all the damn time. Honestly they are the hardest working vegetable and the others need to step up their game.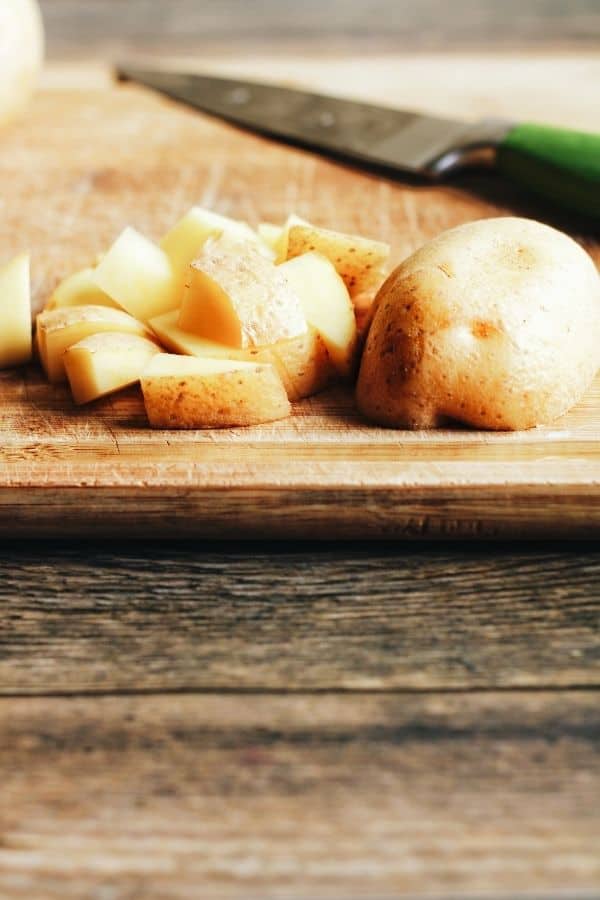 So let's talk roasting potatoes and getting them to actually be crispy and delicious.
Why are my roast potatoes not crispy?
A huge step that many people don't do or don't even know about is rinsing and soaking your potatoes in water before drying them and roasting. This step is what makes those potatoes extra crisp.
Rinsing and soaking your cut potatoes gets that starch off of them. This helps them to roast better and get more crispy.
The other thing that gets potatoes crispy is setting the oven at the right temperature and letting the potatoes actually take their time roasting. So many people crank the oven to 400 or higher and try to roast them up in a short amount of time. Never gonna happen honey- at least not the way you want it. You will wind up with potatoes that are under cooked on the inside and/or burned on the outside.
Instead, set the oven to 350 or 375 and let them roast for a good 30-40 minutes (depending on the cut and type of potato you may need a little longer even).
Garlicky Roast Potatoes with Feta
Feta cheese is some of our favorite topping cheese. We use it on gyros, sauces, meats, pasta, everything. That salty creamy flavor and texture is perfect for so many dishes.
Add as much feta cheese to your crisp, garlicky roast potatoes as you like right out of the oven. This lets the cheese soften in the heat with the potatoes without burning. It is honestly the perfect addition to this roasted potato dish.
We use golden potatoes for this recipe because the soft, creamy, buttery inside of the crispy golden potato just goes so well with that crumbled feta cheese. Definitely use golden potatoes for this one.
Hope you enjoy this as much as we do!
This post may contain affiliate links. If you click and buy, I may make a commission at no cost to you. See my policy for more information.
Tag us on Instagram @grabthemangos and give us a rating and review right here in the comments! And don't forget to pin and save it for next time!
More Sweet recipes for you to love
Shop The Post

Garlicky Roast Potatoes with Feta
These garlicky potatoes are roasted nice and crispy with amazing flavor and a healthy heaping of feta cheese crumbles on top. So easy and simple to make and perfect as a side dish or snack.
Ingredients
4 Medium Golden Potatoes
3 tablespoon Olive Oil
2 teaspoon Garlic Salt
2 teaspoon Dried Parsley
½ teaspoon Black Pepper
¼ - ½ cup Crumbled Feta
Instructions
Pre-heat oven to 375.
Dice up your golden potatoes into bite sized pieces.
Toss the potatoes in a bowl with the olive oil, garlic salt, parsley, and black pepper.
Spread the mix onto a baking sheet lined with parchment paper.
Bake for 40 minutes until golden brown and crispy looking.
Once done, sprinkle your feta cheese crumbles over the top and let it soften and mix with the potatoes (it won't melt like a regular cheese).
Enjoy!
Nutrition Information:
Yield:

5
Serving Size:

1
Amount Per Serving:
Calories:

213
Total Fat:

9g
Saturated Fat:

2g
Trans Fat:

0g
Unsaturated Fat:

7g
Cholesterol:

3mg
Sodium:

683mg
Carbohydrates:

30g
Fiber:

3g
Sugar:

2g
Protein:

4g
Nutritional information is not always 100% accurate.